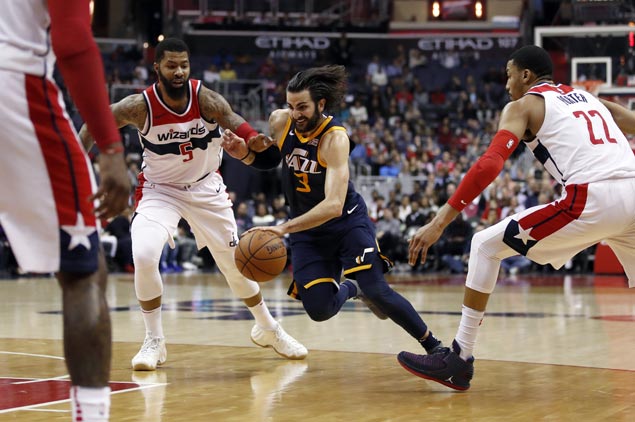 WASHINGTON — Ricky Rubio scored 21 points, Donovan Mitchell had 16 and the shorthanded Utah Jazz completed a season sweep over the Washington Wizards with a 107-104 win on Wednesday night (Thursday, Manila time).
Ekpe Udoh scored 16 points and Joe Johnson had 16 off the bench for the Jazz, who had lost 13 of 16 in between meetings with Washington. The Wizards were embarrassed 116-69 in Utah on Dec. 4.
Utah played without two starters, and second-leading scorer Rodney Hood was ejected in the second half.
John Wall had 35 points and 11 assists for the Wizards, but committed eight of their 23 turnovers. Bradley Beal had 23 points, but missed six of seven shots in the fourth quarter and lost the ball with 2.9 seconds remaining while attempting a game-tying 3-pointer.
The Wizards shot 52.6 percent from the field but lost their second straight after a four-game winning streak.
Washington trailed by 10 early in the fourth quarter before Wall hit a pair of 3-pointers during an 11-3 surge that gave the Wizards a one-point lead. Joe Ingles responded with a 3-pointer that put Utah ahead 104-102 with 1:09 remaining.
Washington led most of the first half and 50-46 at halftime, but Utah seized momentum with a 16-3 run in the third quarter, during which Hood received his second technical foul. Rubio's jumper after one of the Wizards' nine turnovers in the quarter put the Jazz up 83-75.
Utah outscored Washington 37-27 in the third, and Udoh scored 10 points in the period.
TIP INS
Jazz: Ingles had 10 points. ... Already without Rudy Gobert, Utah played without Derrick Favors (right ankle sprain). ... Udoh made his third start of the season.
Wizards: Otto Porter (hip, back) had 14 points after missing Saturday's game against Milwaukee. ... The team handed out All-Star Game promotional boxes with images of Wall and Beal on the front. Items inside included M&Ms with pictures of each guard and "#NBAvote" on the back. ... Devin Robinson, Washington's lone two-way contract player, joined the Wizards for the first time this season. Robinson averaged 13.5 points in 22 games for the G-League's Delaware franchise.
ADVERTISEMENT - CONTINUE READING BELOW
UP NEXT
Jazz: Close their four-game trip at Charlotte on Friday night.
Wizards: Continue their homestand Friday against Orlando.