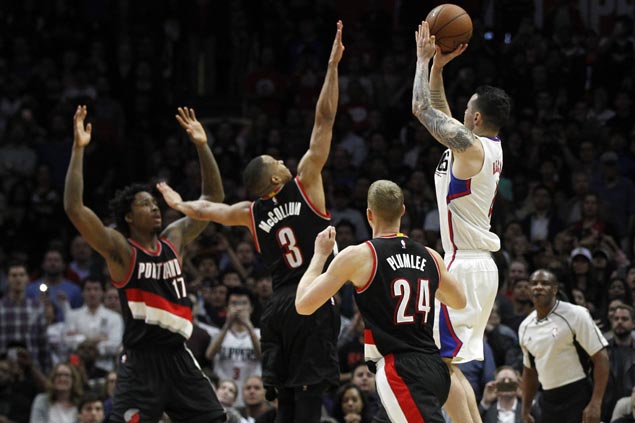 LOS ANGELES — J.J. Redick hit a 21-foot jumper as time expired to lift the Los Angeles Clippers to a 96-94 victory over the Portland Trail Blazers on Thursday night (Friday, Manila time).
With 1.1 seconds left, Chris Paul inbounded the ball to Redick cutting off a screen, and he made the basket from just inside the arc.
Paul and Jamal Crawford each scored 25 points for the Clippers. DeAndre Jordan added 12 points and 13 rebounds for Los Angeles.
Damian Lillard scored 18 points and C.J. McCollum added 17 to lead the Trail Blazers, who lost for the eighth time in 12 games. Ed Davis scored 12 points, Mason Plumlee had 11, and Maurice Harkless added 10 points and eight rebounds for Portland.
The loss cut the Blazers' lead to one game over Dallas and Utah for sixth place in the Western Conference with nine games to play.
The Clippers' four 3-pointers in the game equaled a season-low.
After Damian Lillard hit a 3 with 23 seconds to play to put Portland up 94-91, Jamal Crawford matched it to tie the score with 11 seconds to play. Maurice Harkless missed a short jumper in traffic, setting up the game's final play.
HOME SWEET HOME
The Blazers ended a stretch playing 12 of 15 road games. In a battle with Dallas, Utah and Houston for the final three Western Conference playoff spots, the Blazers play their next four games at the Moda Center, where they are 22-12 this season, having won eight of their last nine.
STEPPING UP AT STAPLES
The Clippers improved their home record to 23-12. They are 21-15 on the road.
"I think we've had a nice year on the road," Rivers said prior to the game, "but I don't think we've had a nice year at home."
CLERICAL ERROR
This was the first Trail Blazers-Clippers game since the Blazers had to play on Jan. 6 without starting guard C.J. McCullum, who was healthy but listed as inactive on the pregame lineup sheet. The submission was due to a "clerical error," according to the Portland public relations team.
ADVERTISEMENT - CONTINUE READING BELOW
When asked before this game they triple-checked the active list, Blazers coach Terry Stotts responded, "No comment."
TIP-INS
Trail Blazers: Portland's 39 points in the first half was the team's lowest halftime total since managing 34 on Jan. 4 against Memphis. The Blazers, third in the league in 3-point percentage, went 1 for 13 from beyond the arc in the first half, with only Gerald Henderson successful with 1:39 left in the first quarter. ... Meyers Leonard missed his 12th game with an injured left shoulder.
Clippers: No date yet for Blake Griffin's return, according to Clippers coach Doc Rivers. Griffin, who has resumed conditioning and shooting, has yet to practice with the team.
UP NEXT
Trail Blazers: Host Philadelphia on Saturday.
Clippers: Host Denver on Sunday.