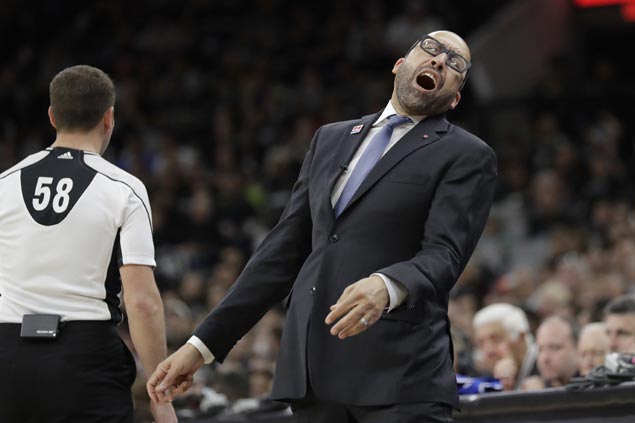 SAN ANTONIO — The Spurs responded to another late-game meltdown as they have all season: relying on a little three-point shooting and a whole lot of Kawhi Leonard.
They also got an assist from the officials, according to Memphis coach David Fizdale.
Leonard had a postseason career-high 37 points and added 11 rebounds as San Antonio beat the Memphis Grizzlies 96-82 on Monday night (Tuesday, Manila time) to take a 2-0 lead in their first-round series.
San Antonio led for all but 13 seconds in winning its 10th consecutive postseason game over Memphis.
"This team has character, besides the talent and the desire to win," Spurs center Pau Gasol said. "We have to keep that up every single night. We responded well when they made their run, and that's the mindset we have to have every night."
Leonard finished 9 for 14 from the field and was 19 for 19 on free throws.
Leonard attempted more free throws than Memphis had as a team, which infuriated Fizdale.
"We don't get the respect that these guys deserve because Mike Conley doesn't go crazy, he has class and he just plays the game," Fizdale said. "But I'm not going to let them treat us that way. I know (Spurs coach Gregg Popovich has) got pedigree and I'm a young rookie, but they are not going to rook us.
"That's unacceptable, that was unprofessional. My guys dug in that game and earned the right to be in that game, and they did not even give us a chance."
Memphis closed within 75-71 early in the fourth quarter but San Antonio responded with 3-pointers by Parker and Pau Gasol in rebuilding their double-digit lead.
The Grizzlies forced seven turnovers while outscoring the Spurs 34-19 in the opening 16 minutes of the second half. Conley, Marc Gasol and Zach Randolph accounted for 21 points.
Conley finished with 24 points, Randolph had 18 points and Marc Gasol added 12 points for the Grizzlies.
Tony Parker added 15 points for the Spurs, who had three others score in double figures.
Game 3 is Thursday night in Memphis.