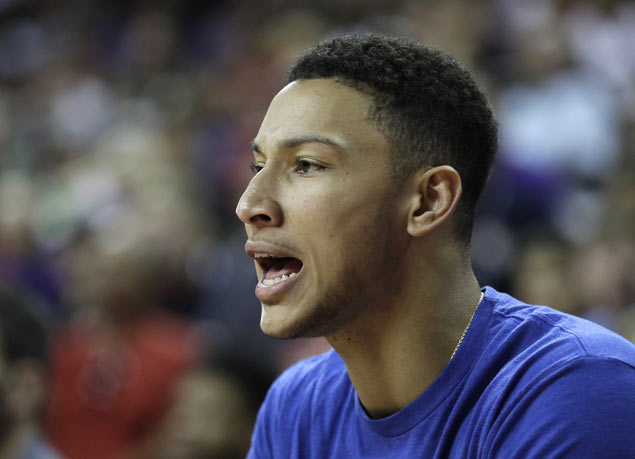 PHILADELPHIA — The dazzling rookie with the longest-lasting impact for the Philadelphia 76ers this season might not be Ben Simmons, Joel Embiid or Dario Saric: It could be the 125,000-square-foot (11,600-square-meter) complex the Sixers expect to set the standard in the NBA.
Philadelphia is set to open their practice facility this week in Camden, New Jersey, complete with two regulation-size basketball courts, a 2,800-square-foot (260-square-meter) locker room, corporate sponsorship and a chef plucked from one of Philly's top restaurants.
"It's a place where players will come and spend time and make it feel like home," CEO Scott O'Neil said.
It's not just the current crop of players the Sixers want to keep happy. The Sixers believe the state-of-the art equipment and sports science stations, among other amenities, could help lure free agents who might need a final incentive to sign with the worst team in the NBA.
"It's the biggest and best that's ever been built," O'Neil said.
The Sixers get the keys to the new facility on Thursday (Friday, Manila time). Coach Brett Brown and his players could start trickling in Friday around the time of the official ribbon cutting.
New Jersey approved $82 million in tax breaks over 10 years to move the 76ers' headquarters out of Philadelphia. The site is on the Camden waterfront on a plot of land next to the Camden Aquarium.
Philadelphia was the only NBA team without its own practice facility. For about 16 years, the Sixers had been renting a single court at the Philadelphia College of Osteopathic Medicine.
The Sixers front office is based at the Navy Yard, just a few miles away from the Philadelphia sports complex that's home to the city's four major professional teams. The business offices open January in New Jersey, putting the entire organization under one roof in Camden, a city long known as perhaps the most dangerous in America.
ADVERTISEMENT - CONTINUE READING BELOW
The kitchen will operate under the leadership of chef JaeHee Cho, a veteran of Philadelphia restaurants Parc and Serpico.
The Sixers also announced a slew of corporate sponsors Monday (Tuesday, Manila time), with Toyota, NovaCare Rehabilitation and Virtua all signed on to stamp their logo on various parts of the complex. There's even a Gatorade Fuel Bar and an innovation lab sponsored by Kimball designed to aid local startup companies. Toyota branding will not only be displayed on pole pads and the apron on both courts in the complex, it's the first sponsor to have apron court branding at Philadelphia's Wells Fargo Center.
But the 76ers are keeping the team name on the building itself in order to build its brand.
The Sixers said the doors will occasionally open to season-ticket holders, corporate sponsors and for select community events throughout the year.