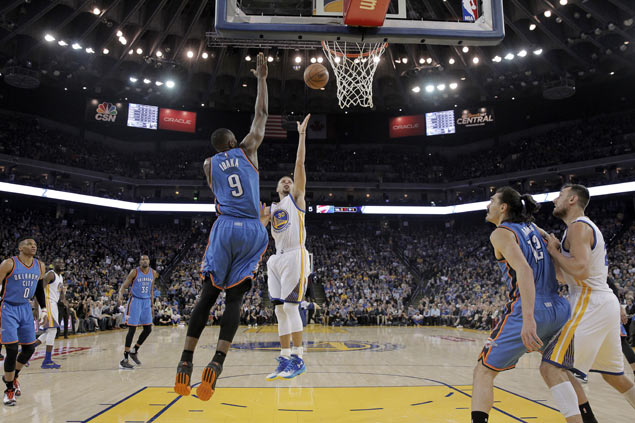 ORLANDO, Florida — The Orlando Magic were looking to get a proven veteran and a rim protector this offseason and they came out with both in Thursday night's (Friday, Manila time) NBA draft.
Orlando selected Gonzaga sophomore Domanta Sabonis with the 11th overall pick then immediately traded his rights to the Oklahoma City Thunder for veteran shot-blocker Serge Ibaka. The Magic announced the deal hours after Sabonis said during an ESPN interview that he was heading to OKC. Also in the proposed trade, the Thunder will receive guard Victor Oladipo and Ersan Ilyasova in addition to the rights to Sabonis.
Orlando general manager Rob Hennigan said he had been having exploratory talks with Oklahoma City for a while but that they took a serious turn on Thursday afternoon.
"We're excited about the versatility (Ibaka) brings, we're excited about the experience he brings having played in a lot of big games, a lot of high-level playoff games, NBA Finals," said Hennigan. "His experience is obviously a plus, we feel like he fits with (Nikola Vucevic), we feel like he fits with Aaron Gordon. It just gives us a lot of versatile interchangeable parts."
The Magic also took UNLV seven-foot freshman center Stephen Zimmerman with the 41st pick and in the second round.
But the landing of Ibaka gives the Magic a proven shot blocker and a player who has experience going deep into the playoffs. Ibaka has been a key part of the Thunder teams that regularly qualify for the playoffs and played the Golden State Warriors to Game 7 in this season's Western Conference finals.
He gives the Magic an inside presence they didn't have last year and a piece needed in new coach Frank Vogel's system. Ibaka is not only a consistent top five shot blocker but he also made the NBA All-Defensive first team in 2011-12, 2012-13 and 2013-14.
"The defense we played at Indiana that we hope to bring here to Orlando is predicated on having a guy like Serge Ibaka that can protect the rim and be that lead shot blocker," said Vogel, who joined the Magic last month after his contract with the Pacers was not renewed. "The way the NBA is going, defensive versatility is huge."
Orlando is coming off a 35-47 season in which they missed the postseason for the fourth straight year. Hennigan has said the team was a proven veteran away from making the postseason. They're hoping Ibaka — who averaged 12.6 points, 6.8 rebounds and 1.9 blocks last season — can fill that void.
ADVERTISEMENT - CONTINUE READING BELOW
Also, the move seems to open up a logjam the Magic had on the wing where restricted free agent Evan Fournier and rookie Mario Hezonja are vying for time. Oladipo was the Magic's No. 2 overall pick in 2013 but has been up and down during his first three seasons.
"Victor is a first-class human being and we are going to miss him," Hennigan said. "This was not an easy decision by any stretch of the imagination. We felt like it was necessary to make this move to help fortify our team and make the moves we felt we needed to."