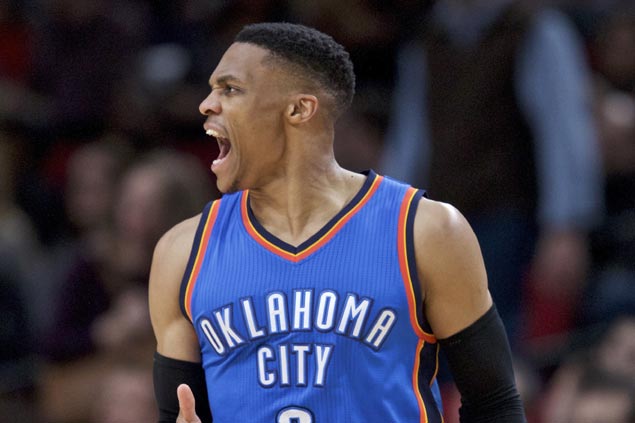 TORONTO — With four straight triple-doubles contributing directly to wins, Russell Westbrook's ability to make the Oklahoma City Thunder tick is undeniable.
Not that there was any doubt on Thursday night (Friday, Manila time) as the NBA's leading scorer had 24 points, 16 assists and 10 rebounds to lead his team to a 123-102 blowout victory over the Toronto Raptors.
It was Westbrook's 34th triple-double of the season as he continued his assault on the NBA's single-season record for triple-doubles of 41, set by Oscar Robertson during the 1961-62 season. Oklahoma has 14 regular season games left.
You wouldn't know from his postgame comments, though, as he deflected the talk from his play to the play of his teammates. In particular, he downplayed his role in an 18-6 second-quarter Thunder run in which he either scored or assisted on every point.
"They are an aggressive defensive team," he said of the Raptors. "They like to trap and stuff, so my job was to use that to my advantage, take on two people and make sure the guys get open."
The Thunder led wire-to-wire from Steven Adams' hook shot 1:09 in and were rarely challenged, extending their lead to a game-high 32 points in the fourth quarter before running out the clock. The win split the season series with the Raptors.
Also instrumental in the victory was the play of Victor Oladipo, who chipped in with 23 points, as all five of Oklahoma City's starters registered double-digits in points, combining for 80 points.
The Raptors held a closed-door meeting for more than 30 minutes following the loss, their third defeat in four games.
"That exhibition of basketball is unacceptable," coach Dwane Casey said afterward. "I want to apologize to the fans, to everybody for the way we played tonight."
DeMar DeRozan led the way with 22 points, one of five players who scored in double figures, but with just 14 games remaining, time is running out for the fourth-place Raptors to move up in the Eastern Conference.