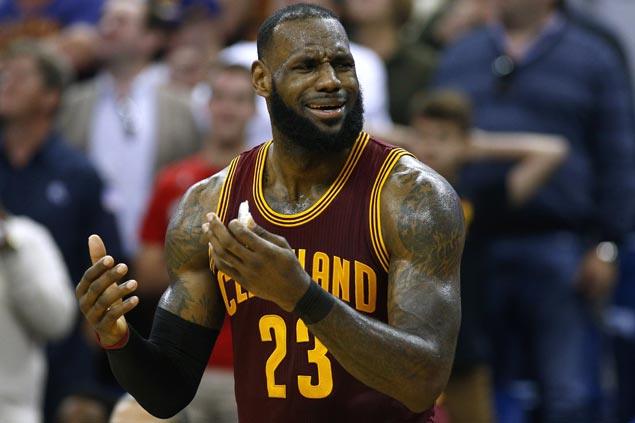 NEW ORLEANS — LeBron James stroked his beard as he sat in his locker and tried to make sense of Cleveland's recent slide.
Losses to powerhouses like Golden State and San Antonio were a little easier to shake off. But Monday night's (Tuesday, Manila time) result with New Orleans All-Star Anthony Davis in street clothes was tougher to take.
"We're not very good right now," James said. "A lot of it is energy and effort."
Terrence Jones filled in brilliantly for injured Davis, tying a career high with 36 points, grabbing 11 rebounds and blocking James' dunk attempt late in the fourth quarter as the Pelicans held on for a 124-122 victory against the late-charging Cavs.
"I just wanted help my team get a win and I think that's what I did," Jones said.
Jrue Holiday added 33 points and 10 assists for the Pelicans, and Langston Galloway capped a 12-point night with a clean steal on James' drive in the final minute, preventing the Cavs from erasing a deficit they had trimmed from 22 late in the first half to three with 1:32 left in the game.
Kyrie Irving scoring 35 of his 49 points in the second half, but Cleveland fell to its fifth loss in seven games. James had 26 points, 12 assists and 10 rebounds, and Kevin Love scored 22 points for the Cavaliers, who could not quite keep pace with a Pelicans squad that tied a season high for 3-pointers with 16 and shot 49.4 percent (43 of 87).
"They definitely beat us to the punch," Irving said. "But you've got to give them credit. They came out and Terrence Jones and Jrue did an unbelievable job attacking the paint, getting other guys involved and other guys made big shots."
"For us, we have a few things that we've got to correct, especially our interior defense," Irving added. "Going forward, we'll be all right."
ADVERTISEMENT - CONTINUE READING BELOW
Donatas Moteijunas had 14 points for New Orleans, while Dante Cunningham scored 11. Each hit a pair of 3s.
The Cavs drained 15 3s, eight by Irving, whose step-back jumper from long range had Cleveland within three with 21 seconds to go, but the Cavs got no closer until Love's anticlimactic 3 in the final second.