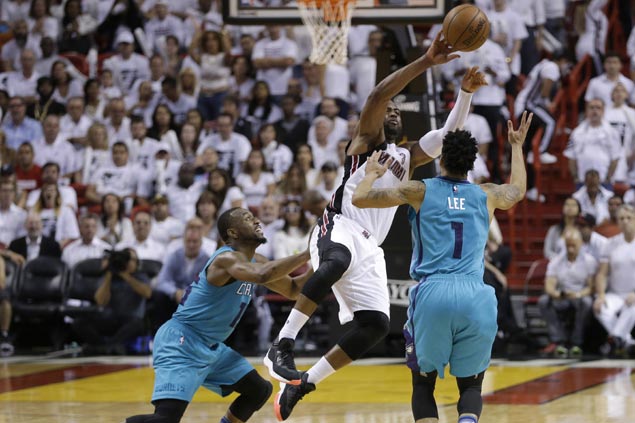 MIAMI — Dwyane Wade does not read the NBA's reviews of officiating in the last 2 minutes of close games, which might be a wise move in this particular case.
He wouldn't have liked what the league said Thursday (Friday, Manila time).
And it seems referees could do without the NBA's after-the-fact public critiques as well.
Since March 2015, the NBA's "Last Two Minute Report" has provided a public report card of sorts on everything that happens in the final 2 minutes of games that were within five points or less. The NBA said it releases the reports in an effort to be transparent, and because it would get inquiries from teams and media about certain calls in close games anyway.
But outcomes never change whether calls are right or wrong, so it begs the question — why release the reports anyway?
"It's important that we're completely transparent and we get the information out there and people understand that we're upfront about it and we admit mistakes," Kiki VanDeWeghe, the NBA's executive vice president of basketball operations, said Thursday. "But also, it's important not only for the referees but for the teams and everybody else that we also talk about the ones we got right."
The league reviewed 26 events down the stretch of the Miami-Charlotte game Wednesday, one where the Hornets prevailed 90-88 for a 3-2 series lead.
Of those, the three most debated by the teams afterward:
— Charlotte's Courtney Lee argued he had a shot goaltended by Wade with a minute left.
— Wade thought Lee or Cody Zeller — or both — fouled him on his chance to tie the game in the final seconds.
— The Heat said they fouled Zeller a couple seconds later on an inbounds pass in an effort to send him to the line and extend the game.
In all three of those instances, the NBA said it got the calls, or non-calls, right. (The review found Miami's Luol Deng fouled Zeller before the ball was inbounded, but Charlotte would have retained possession in that situation anyway.) The NBA did say Lee made "minor contact" with Wade's arm on the Heat guard's shot attempt, but not enough to merit a foul.
"To be honest, I don't even look at them," Heat coach Erik Spoelstra said of the reports Thursday, a few hours before the league's review of Wednesday's game was released. "That doesn't help if they disagree and say it should have been a foul. What's that do? You just become frustrated. Or if they disagree with you, you can go down that rabbit hole of 'How do you not see it that way?'"
ADVERTISEMENT - CONTINUE READING BELOW
A review of the reports by The Associated Press showed the league has probed 174 events in the final 2 regulation minutes over 11 close games so far in these playoffs. Of those, Of those, 150 plays (86 percent) were found to have been handled correct, 24 plays (14 percent) were not.
"I appreciate the league trying to be transparent about calls," Golden State coach Steve Kerr said last week in Houston, according to NBA.com. "On the other hand, it puts the referees in a pretty tough spot. You can't change the call afterwards. So it doesn't really make a difference either way."
Kerr's team was on the wrong end of an incorrect non-call.
Houston's James Harden pushed off a defender to create room for what became his game-winning shot in Game 3 against the Warriors. The NBA, in the report that came out a day later, said Harden's shot shouldn't have counted and an offensive foul should have been called.
A tweet sent from the National Basketball Referee Association's account the day after Harden's shot said the group "disputes L2M decisions and calls for L2M process reform."
The NBRA did not reply to an email Thursday seeking elaboration on that comment, or what reforms it would want.
"These guys are the best in the world," VanDeWeghe said. "They're not perfect, but we're very proud of them. These guys want to get it right."