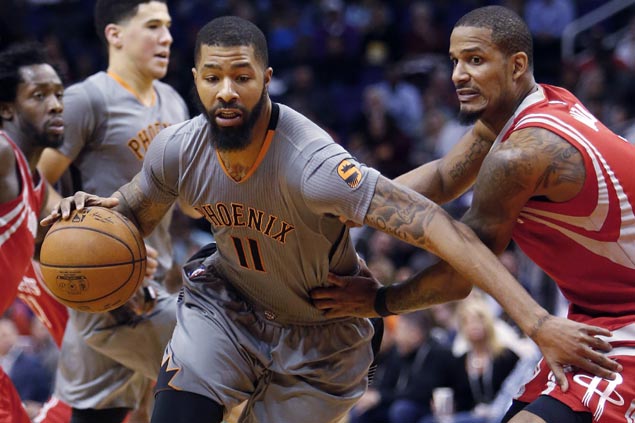 WASHINGTON — A week after scuffling with a teammate, forward Markieff Morris was traded Thursday (Friday, Manila time) by the free-falling Phoenix Suns to the Washington Wizards, a team hoping to boost its chances of making the playoffs.
Phoenix received a first-round draft pick — protected to the ninth spot — and forwards Kris Humphries and DeJuan Blair in exchange for the 6-foot-10, 245-pound Morris.
Speaking to reporters while riding a hoverboard on his way out of the Suns' arena Thursday, Morris expressed his thanks to that team and said: "I'm just ready to move on."
The move ends a tumultuous tenure in Phoenix for Morris, who was suspended for two games in December after throwing a towel at since-fired coach Jeff Hornacek during a game. And then, during a first-quarter timeout in the Suns' most recent game, a 112-104 home loss to the league-leading Golden State Warriors last week, Morris got into a physical confrontation with Archie Goodwin on the sideline, exchanging shoves.
"Sometimes little brothers and big brothers get into it," Morris said that night. "That's what happened — wrong place, wrong time."
In his fifth NBA season, all with Phoenix, Morris was third on the Suns in scoring at 11.6 points per game and also averaged 5.2 rebounds and 2.4 assists.
Last season was his best in the league, averaging 15.3 points and 6.2 rebounds. He also tied with Oklahoma City Thunder guard Russell Westbrook for the most technical fouls in the NBA at 15.
Morris' contract is worth $8 million per year.
The 26-year-old Morris offers frontcourt versatility and athleticism for the Wizards, who entered their first game after the All-Star break — at home against the Utah Jazz on Thursday night — with only a 23-28 record and in 10th place in the Eastern Conference, two spots out of a playoff berth.
Led by All-Star point guard John Wall, Washington made the postseason each of the past two years, but has struggled at the defensive end as it has tried to become more of a small-ball team. The Wizards won only three of their last 10 games heading into the break.
The Suns, meanwhile, are in far worse shape.
They've lost nine games in a row, and 24 of their last 26, and fired Hornacek on Feb. 1, replacing him with Earl Watson on an interim basis. Only two teams have fewer victories than Phoenix's 14.
"We added another first-round pick to our collection of picks while keeping our young core intact," Suns general manager Ryan McDonough said in a statement. "We are excited to watch this group of players continue to develop and grow together."
ADVERTISEMENT - CONTINUE READING BELOW
Morris never seemed to get over being upset about the Suns trading twin brother Marcus to the Detroit Pistons in the offseason, making clear that he wanted to leave Phoenix, too.
The Morris brothers still face two felony aggravated assault counts in a 2015 case connected to a fight outside a Phoenix health club.
Humphries, best known for briefly being married to reality TV star Kim Kardashian, missed 18 of Washington's last 19 games because of a sore right knee. He recently turned 31 and is in his 12th NBA season.
Blair is averaging only 2.1 points in limited action in his seventh year in the league.