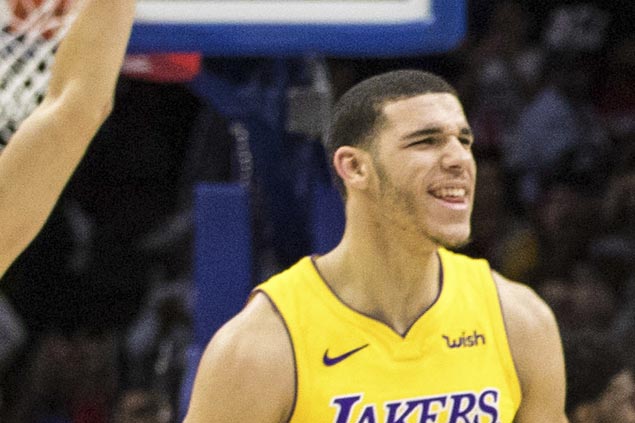 CHARLOTTE, N.C. — Jordan Clarkson believes he's figured out the key to his NBA success: fried chicken and scary movies.
The 25-year-old Clarkson said he brought some food into a movie theater and just chilled out on his night off between games — and it helped him immensely.
"I've got to start eating more fried chicken the day before a game," he joked.
Whatever it was, Clarkson turned in one of his best games with the Los Angeles Lakers, scoring 14 of his 22 points in the fourth quarter of a 110-99 win over the fatigued and short-handed Charlotte Hornets on Saturday night.
Clarkson was so hot that he played the entire fourth period while rookie point guard Lonzo Ball sat out. Ball finished with five points and nine assists after turning in perhaps his most complete game Wednesday night against Philadelphia, when he had 10 points, eight rebounds, eight assists, three steals and four blocks in a 107-104 victory.
Ball didn't seem to mind.
"That's what the team is for," he said. "JC came in and he was cooking tonight."
Brandon Ingram added 18 points and Kentavious Caldwell-Pope had 15 for the Lakers, who have won two straight after losing five in a row.
"It doesn't matter who comes in, who finishes the game — we support each other and throughout the game everyone made huge contributions," Lakers coach Luke Walton said. "At the end, that group had it rolling. So I was planning on throwing 'Zo and Brook (Lopez) back in the game but because of the way the momentum was going, we stuck with the group that was out there and they got the job done for us."
Kemba Walker scored 23 points and Dwight Howard had 21 points and 12 rebounds for the injury-riddled Hornets, who have lost seven of eight.
The Lakers led by one entering the fourth but went on a run midway through the quarter to push the margin to 15.
Clarkson beat Walker on a backdoor cut for a jam, Caldwell-Pope knocked down a 3-pointer and Julius Randle scored on a layup and drew a foul. Ingram's tip-in off his own missed layup and Clarkson's floater increased the Lakers' lead to 14 with four minutes remaining. The Hornets had no legs left to challenge.
The Lakers outscored Charlotte 28-17 in the final 9½ minutes.