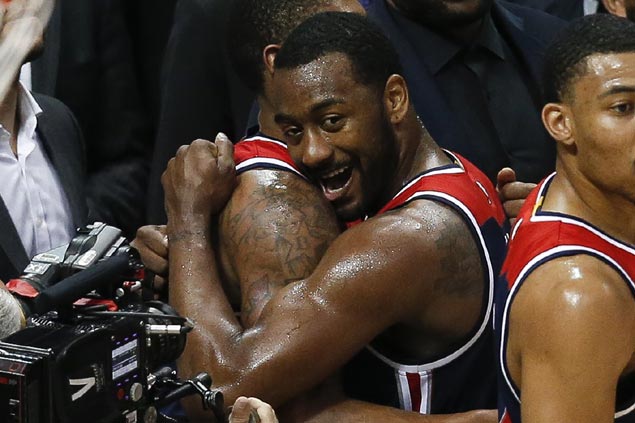 ATLANTA — John Wall had that look in his eye at morning shootaround.
Bradley Beal knew it was going to be a big night for Washington's star point guard.
Wall scored 42 points — a career playoff high , with 19 coming in the fourth quarter to single-handedly hold off a furious Atlanta comeback — and the Wizards eliminated the Hawks with a 115-99 victory Friday (Saturday, Manila time), capturing the opening-round playoff series 4-2.
"You could just tell he was locked in," Beal said. "He was ready to go. We just feed off that."
Beal wasn't too shabby either, scoring 31 points.
But this one was all about Wall, who stared down the crowd, jawed with NFL star Julio Jones and other celebrities sitting courtside and hit every big shot down the stretch. He was determined to get back at the Hawks for a second-round loss in 2015, when he missed three games with a broken hand.
"We came here with that focus and determination that we wanted to do the same thing those guys did to us two years ago," Wall said. "Me and Brad led the way. We locked in. Our teammates understood what we had (to do). We didn't want to have a Game 7."
Wall also came up with a huge defensive play that stymied the Hawks' momentum, hustling back to block Dennis Schroder's layup from behind when Atlanta had a chance to close within a single point after being down by as many as 22.
"I knew he was going to get it," Beal said. "That was an easy play for him."
After claiming the first road victory by either team in the series, the Wizards advanced to face top-seeded Boston in the Eastern Conference semifinals. The Celtics closed out the Bulls 4-2 with a 105-83 victory in Chicago.
Game 1 is Sunday in Boston.
Paul Millsap led the Hawks with 31 points, and Schroder had 26. After losing three close games in Washington, the Hawks finally ran out of steam.
"It's tough to get back in the game and then to get over the hump down the stretch," Millsap said. "You wear yourself out so much that it's tough to get over the hump."
Washington pushed out to a double-digit lead late in the first quarter, and closed the first half on a 19-4 run to take a 65-46 lead at the break. The Hawks turned the ball over six times during that five-minute stretch, making things easy for the Wizards.
ADVERTISEMENT - CONTINUE READING BELOW
Atlanta finished with 22 turnovers, including seven by Kent Bazemore.
After his big block on Schroder, Wall somehow got one to fall as he slammed into Millsap, further silencing a crowd that was in a frenzy with the home team rallying. Atlanta's Jose Calderon missed a 3-pointer, and Wall knocked down a pullup jumper to stretch the lead to 97-90.
That was it.
Washington finished on a 22-9 spurt to win going away.
The Hawks made their earliest exit from the playoffs since 2014, when they lost to Indiana in the opening round.
After claiming the top seed in the East two years ago and reaching the conference final, Atlanta has steadily regressed. The Hawks slipped to 48-34 last season and lost in the second round. This season, after signing Howard and handing the point guard job to Schroder, they dipped even further, going 43-39 during the regular season.