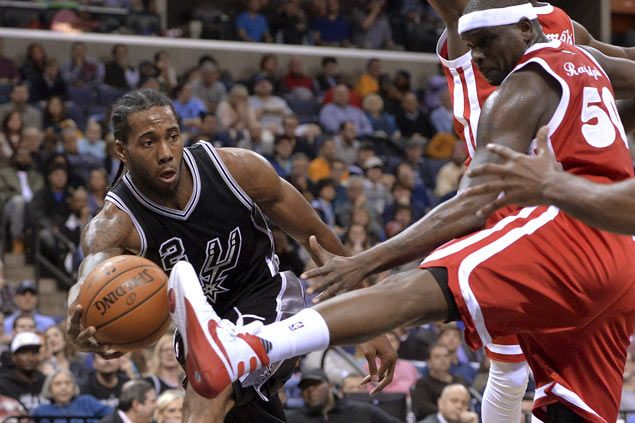 MEMPHIS, Tenn. — Kawhi Leonard scored 27 points, shooting 7 for 9 on three-pointers as the San Antonio Spurs eased to a 103-83 victory over the Memphis Grizzlies on Thursday night (Friday, Manila time).
Leonard's career-high 3s were part of the Spurs going 10 of 18 from behind the arc.
Tony Parker had 17 points, seven rebounds and five assists as San Antonio won for the seventh time in eight games. LaMarcus Aldridge scored 18 and Manu Ginobili finished with 13.
Mike Conley, Marc Gasol and Mario Chalmers scored 15 apiece for Memphis, and Jeff Green finished with 10 points.
Leonard's long-distance baskets helped San Antonio build a 15-point lead early in the second half and the Spurs coasted the rest of the way as the lead reached 23 in the fourth quarter.
San Antonio shot 50 percent overall while limiting Memphis to 38 percent. The Spurs also outrebounded the Grizzlies 48-37, led by 10 from Tim Duncan and eight from Leonard.
The Spurs built their lead to 15 early in the third quarter as Leonard converted a pair of 3-pointers. Aldridge, limited to one point in the first half, had 10 points in the period.
The Spurs caused several early turnovers by double-teaming Memphis' big men when the ball went into the post. Gasol had four of his five turnovers in the first half.
Meanwhile, Parker was converting 8 of 11 shots in the half for 16 points as the Spurs carried a 45-36 lead into the break.
TIP-INS
Spurs: Leonard's previous high for 3-pointers was five against Miami last season. San Antonio has won 13 of the last 15 in the series.
Grizzlies: Wore their throwback Memphis Sounds jerseys, the last ABA team to play in the city. Jeff Green missed his first free throw of the game, breaking a franchise-best streak of 40 straight. This was the opener of a three-game homestand for Memphis.
UP NEXT
Spurs: Host Boston on Saturday (Sunday, Manila time).
ADVERTISEMENT - CONTINUE READING BELOW
Grizzlies: Host Phoenix on Sunday (Monday, Manila time).