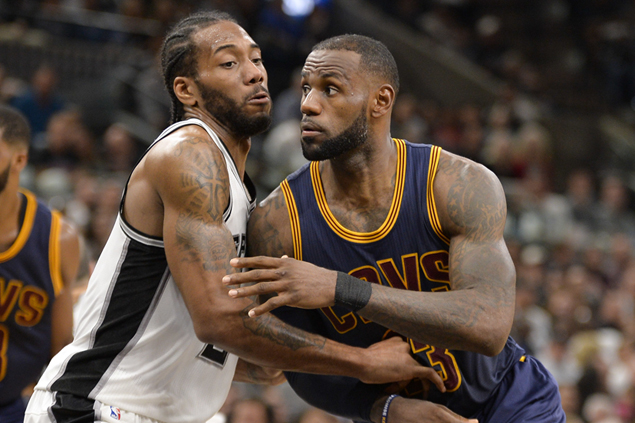 SAN ANTONIO — The Cavaliers acknowledged having heavy legs, yet there is something far weightier on the minds of the defending NBA champions.
Cleveland is in the midst of one of its worst stretches this season and there is little time to fix it.
Kawhi Leonard scored 25 points and the San Antonio Spurs dismantled the ailing Cavs 103-74 on Monday night (Tuesday, Manila time) in a much-anticipated showdown that turned into a major letdown for Cleveland.
"The way we've been struggling, (the Spurs are) the last team that you want to play," said LeBron James, who was fine after taking an elbow to the neck. "A well-oiled machine like this, they exploit everything that you're not doing well at that point in time of the season and right now we're not playing good basketball."
James, who finished with 17 points, eight rebounds and eight assists in 29 minutes, said he will play on Thursday (Friday, Manila time) at Chicago.
Cleveland (47-26) dropped its second in a row, set a season low for points and fell a half-game behind Boston (48-26) for the top seed in the Eastern Conference playoffs. The Cavaliers have nine games remaining, all against teams in the East, including a visit to Boston on April 5.
[See LeBron shrugs off injury scare]
James said the standings "always matter," but playing more consistently is far more important and he refused to blame injuries or an arduous schedule for the team's troubles.
"It matters more that we're playing better basketball than where we're at," he said. "If that results in us having the No. 1 seed, the No. 2 seed, 3 or whatever the hell it is, we need to play better basketball. That's what it comes down to."
What Cleveland is seeking, the Spurs have already found.
San Antonio (57-16) is two games behind Golden State (59-14) for the league's best record entering a home game against the Warriors on Wednesday.
ADVERTISEMENT - CONTINUE READING BELOW
The Spurs have won five straight and eight of 10 after sweeping the season series with the Cavaliers.
"It was a big game, but in the end, it's just one game, and one win," San Antonio guard Tony Parker said. "We're trying to be consistent. We're trying to play the same way every game. It was definitely surprising. Coming off a loss, I thought they would play with a lot more energy, but it can happen. It's a long season. It's just one game and I'm sure they're going to bounce back and use this game as motivation."
San Antonio led by as many as 33 to the delight of the sold-out crowd, and the Spurs' bench outscored the Cavaliers' reserves 49-24.
Cleveland, which was already without injured Iman Shumpert, received more bad news on Monday morning when it was announced that Kyle Korver will miss at least two more games with a sore left foot.
"You lose Korver and Shumpert off your bench and things tend to change," Cavaliers coach Tyronn Lue said. "With those two guys out, we tried some different things and it didn't work. It was not on the bench. It was on me."
Cleveland opted to play its stars rather than rest them, but the trio of James, Kyrie Irving and Kevin Love sat out the fourth quarter of the Cav's second lopsided loss in the past two weeks.
Lue said he has considered resting his stars over the team's final nine games, which James is not in favor of.
"Coach is going to have his logic of things, but we need to play," he said.
James exited with 25 seconds remaining in the third after taking an elbow to his neck from David Lee on a rebound. James continually rubbed the area before collapsing after he crossed midcourt. He remained on the floor for about a minute before walking unassisted to the bench.
ADVERTISEMENT - CONTINUE READING BELOW
James left for the locker room early in the fourth quarter during a timeout, but said afterward he was fine.