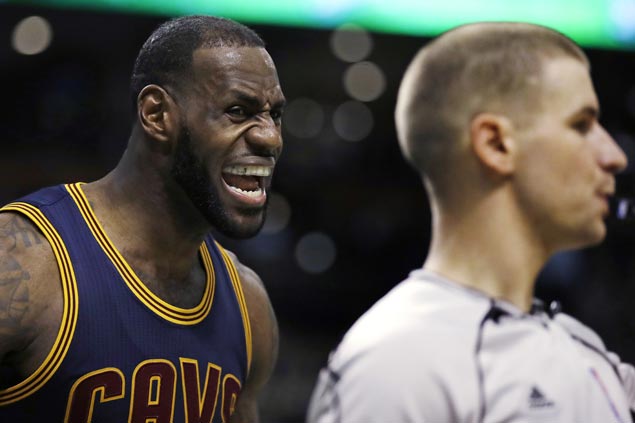 BOSTON — LeBron James and the Cavaliers sent a message to the Celtics in their final matchup during the regular season: They won't relinquish the Eastern Conference's top seed that easily.
James had 36 points, 10 rebounds and six assists as Cleveland ran past Boston 114-91 on Wednesday (Thursday, Manila time) to move back into first place in the East.
The teams had identical records entering their final regular-season matchup, but Cleveland (51-27) now has a one-game lead over Boston (50-28) with only four games to play. Cleveland also holds the tiebreaker with the Celtics for the top seed, if needed.
"Just trying to get our team right going down the stretch brings out the best in me," James said. "We knew we were coming to a hostile building tonight and just wanted to try and play our game ... and we did that."
Kyrie Irving added 19 points and five assists.
The Cavaliers played without starting center Tristan Thompson, who was out with a sprained right thumb. But they performed without him, surging at the start of the second quarter and taking as much as a 29-point lead in the third quarter. They also outrebounded Boston 51-38.
Isaiah Thomas led the Celtics with 26 points.
"We laid an egg tonight," Thomas said. "There's no way around that. We didn't take advantage of the opportunity that we had tonight."
James' output has increased noticeably over the last week as the regular season winds down. He entered Wednesday coming off back-to-back triple doubles in Sunday's double-overtime win against Indiana and a blowout win over Orlando Tuesday, while logging 89 minutes over those two games.
He played another 39 minutes Wednesday, finally going to the bench with 4:04 remaining.
The Celtics came out of the gate stale offensively. Thomas went 5 of 9 from the field in the first quarter, while the rest of his teammates were just 3 of 12.
Cleveland seized on Boston's sluggishness, outscoring the Celtics 22-4 over the first 6:40 of the second quarter.
James was active on both ends during the run, exploding to the rim for several easy baskets. He also did it on the defensive end, notably stuffing Marcus Smart with a two-handed block.
Even with Thompson out, this was the healthiest Cleveland team Boston had seen since the teams' first meeting in November.
James said it's to be determined whether his team has truly turned a page this week.
"Only time will tell," he said. "But we played Cavs basketball tonight and when we do that we're a pretty good team. So we've got four more games left and we can see how we can finish the season off."
ADVERTISEMENT - CONTINUE READING BELOW