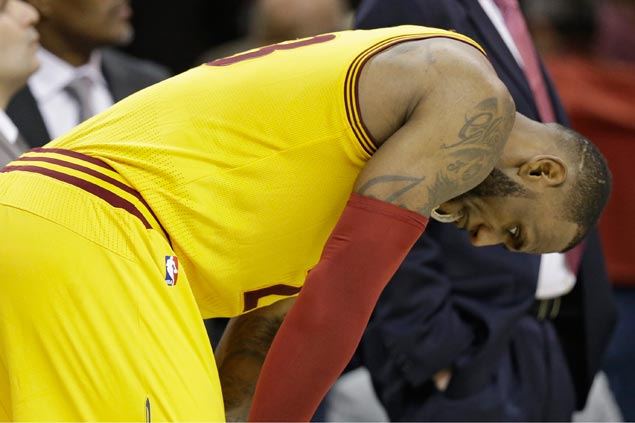 CLEVELAND — Having called Cleveland's roster "top heavy" and questioned the organization's commitment to winning a second championship, LeBron James met with the Cavaliers as a team and spoke one on one on Wednesday (Thursday, Manila time) with general manager David Griffin.
"We both needed it," said Griffin, who spoke to reporters shortly before the Cavs hosted the Sacramento Kings. "I'm happy it happened."
Griffin was not pleased James went public with his feelings after Monday's defeat at New Orleans, and felt he demeaned some players.
"It certainly wasn't appropriate from a teammate perspective," Griffin said.
Cleveland's problems worsened on Wednesday night as the Cavs blew a 10-point lead in the fourth quarter and lost 116-112 in overtime to the Sacramento Kings, one of the worst teams in the Western Conference.
The Cavs missed 17 free throws and squandered a five-point lead in the final 2:30 of OT.
"We gotta get better, that's all," James said. "It don't matter who we go against, if they're sub-.500 or plus-.500, we know we're going to get everybody's best, so we just gotta be better."
[See LeBron slams Cavs' lack of depth in expletive-laden tirade]
Griffin said he was most bothered by James' claim that the Cavs seemed to be satisfied with one title and weren't doing all they could to repeat as champions.
"The comment about the organization being complacent is really misguided," Griffin said. "Organizationally there is absolutely no lack of clarity on what our set goal is. We are here to win championships and there is no other solution, there is no other outcome that is acceptable and there never has been."
Griffin said he's continuing to try and improve Cleveland's roster, adding that James' issues will not speed up any timeline.
Despite their slump, the Cavs entered Wednesday's game at 30-13 and leading the Eastern Conference by three games.
ADVERTISEMENT - CONTINUE READING BELOW
Earlier, coach Tyronn Lue said the Cavs met as a group and discussed James' comments.
"You always want to try to improve the team whether you're great or not," Lue said. "Golden State won 73 games last year and they added Kevin Durant. You always want to get better and when you see teams getting better, as a competitor you want to get better. But we have enough on this team to win a championship. We can get better.
"LeBron James, the best player in the world, took a team that was worse to the NBA Finals two years ago. We have a good team. We just have to start playing better as a unit.."
Griffin has been in the market for a backup point guard, but believes the Cavs can defend their title with their current roster.
"We have enough (to win) if everyone plays significantly better, but we have a very fine margin for error right now," he said. "I would like to have a greater margin for error. I would like to be more protected against injury in different positions. But if we were 100 percent healthy going into any series I feel pretty good about our situation. We just have a very small margin for error."
Griffin would not comment on a report that the New York Knicks reached out to the Cavs about a possible trade for Carmelo Anthony.
[See Cavs turn down Knicks offer of a Melo-Love trade, say reports]