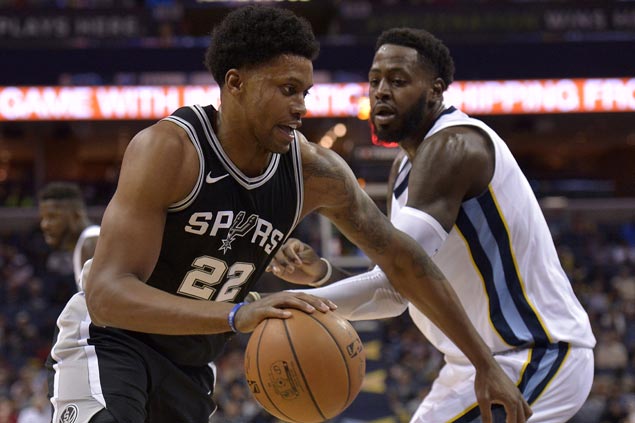 MEMPHIS, Tennessee — LaMarcus Aldridge had 22 points, Rudy Gay added 18 off the San Antonio bench and the Spurs extended Memphis' losing streak to 10 with a 95-79 victory over the Grizzlies on Friday night (Saturday, Manila time).
San Antonio controlled most of the game, leading by as many as 25 in the fourth quarter. Memphis provided a more spirited effort in its second game under interim coach J.B. Bickerstaff, who took after David Fizdale was fired on Monday.
Manu Ginobili added 11 points, seven rebounds and six assists for the Spurs, and Patty Mills had 10 points.
Marc Gasol led Memphis with 16 points and 13 rebounds, despite going 6 of 16 from the field, part of Memphis shooting 41 percent. Ben McLemore had a season-high 14 points, and Chandler Parsons had 12.
Memphis came out with more hustle and energy at the start than the overall tone of play during the losing streak. While the attitude was different, it didn't offset the Spurs talent and depth.
San Antonio took the margin to as many as 14 in the half before carrying a 47-38 lead into the break.
They were still holding the advantage, leading 68-59 after three.
TIP-INS
Spurs: Injured Kawhi Leonard accompanied San Antonio to Memphis. Coach Gregg Popovich said before the game that Leonard, who hasn't played this season because of a quadriceps injury, may return soon. "He's getting closer all the time," Popovich said. "He could be back sooner rather than later." ... Aldridge had a season-high 41 against the Grizzlies on Wednesday night. ... San Antonio shot 44 percent, and the Spurs are 15-0 when they outshoot an opponent.
Grizzlies: Chandler Parsons (right knee), Mario Chalmers (right ankle) and Brandan Wright (right groin), all of whom sat out Wednesday's game at San Antonio with injuries, played Friday. ... However, Wright experienced tightness in the groin during the first half and did not return. ... McLemore surpassed his season-high with 11 points in the first half
UP NEXT
Spurs: At Oklahoma City on Sunday
Grizzlies:  At Cleveland on Saturday night.