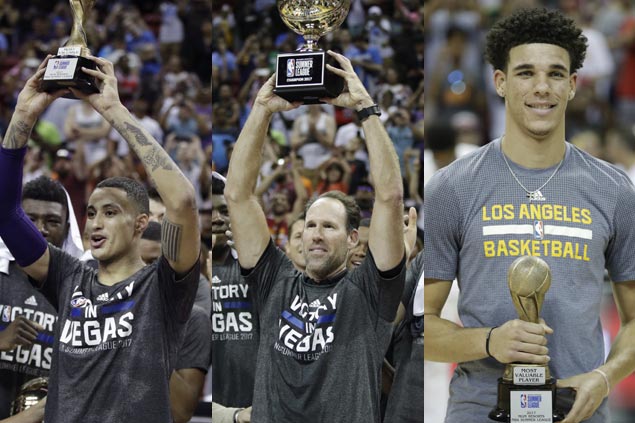 NBA SUMMER league play ended on Monday night (Tuesday, Manila time) after the Los Angeles Lakers beat Portland, 110-98, in the Las Vegas league championship game.
No. 2 pick Lonzo Ball owned Vegas with a pair of triple-doubles and was named Vegas MVP, but sat out the title-clincher due to a calf strain he suffered on Sunday.
Kyle Kuzma had 30 points and 10 rebounds to lead the Lakers to victory over the Trail Blazers.
Kuzma hit 6 of 10 3-pointers and Matt Thomas scored 23 points on 8-of-9 shooting and 5 for 5 on 3s to help the Lakers overcome the loss of Ball, who sat out with a calf injury.
Caleb Swanigan had 25 points, 12 rebounds and seven assists and Jake Layman had 21 points and seven boards for Portland.
Buoyed by Ball and the Lakers, the Vegas Summer League enjoyed record attendance numbers, including multiple sellouts of Thomas & Mack Center.
What started as a gathering of a few teams 13 years ago has turned into a full-fledged event under the guidance of coaching agent Warren LeGarie and Albert Hall. Sponsors are lining up to get in on the action, fans crowd the concourses looking for autographs of the next big things and established stars like LeBron James, Isaiah Thomas and John Wall sit courtside to watch the games.