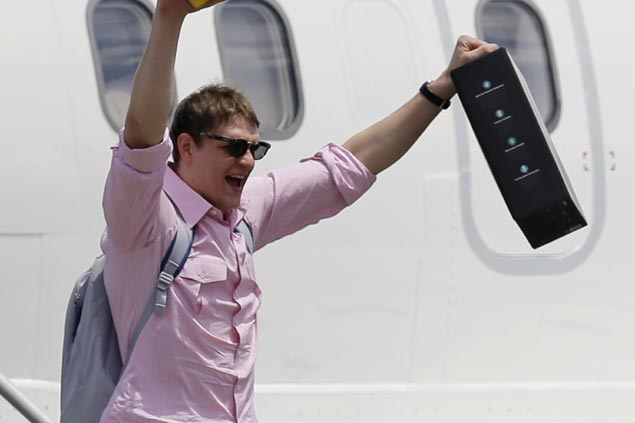 LOS ANGELES — Russian center Timofey Mozgov has agreed to a four-year, $64 million contract with the Los Angeles Lakers, a person familiar with the negotiations told The Associated Press.
The person spoke on condition of anonymity Thursday night (Friday, Manila time) because the deal can't be signed until July 7.
The Lakers moved swiftly in the opening minutes of the NBA's free agent signing period to use a big portion of their roughly $55 million in cap room on the 7-foot-1 Mozgov, a six-year NBA veteran.
He won a ring with the Cleveland Cavaliers last month, but barely played in the postseason, averaging 5.8 minutes in 13 playoff appearances. He started 48 games for the Cavs during the regular season, averaging 6.3 points and 4.4 rebounds while making 56.5 percent of his shots, before falling out of their rotation due to injury.
The Lakers still paid an eye-popping price for a soon-to-be 30-year-old center who has never averaged 11 points or eight rebounds per game in an NBA season.
Yet the deal represents both the inflated realities of the NBA's increased salary cap and the necessity of overpayment by Los Angeles.
The Lakers aren't the most attractive destination after the worst season in franchise history and Kobe Bryant's retirement. After going 17-65 last season, they realize they're unlikely to land Kevin Durant or other top free agents eager to win championships now.
Instead, they're hoping to add veteran leaders and role players around their intriguing young core, which includes D'Angelo Russell, Julius Randle, restricted free agent Jordan Clarkson and No. 2 pick Brandon Ingram.
Mozgov began his NBA career with New York in 2010, but was traded to Denver at midseason. He spent the next four years with the Nuggets before a trade to Cleveland in January 2015.
Mozgov averaged a career-best 10.6 points in that abbreviated season with the Cavaliers, and he became the first Russian to play in the NBA Finals that summer.
ADVERTISEMENT - CONTINUE READING BELOW
Mozgov's arrival in Los Angeles certainly means the departure of Roy Hibbert, who was inconsistent in his only season with the Lakers. Los Angeles had only six players under contract heading into the weekend, although Ingram will sign along with three restricted free agents.
Mozgov also could be a mentor to Ivica Zubac, the 7-foot Croatian teenager drafted by the Lakers with the 32nd overall pick last week. Zubac wants to play in the NBA next season, and his draft stock apparently slipped because he was unwilling to be stashed in Europe for another year.