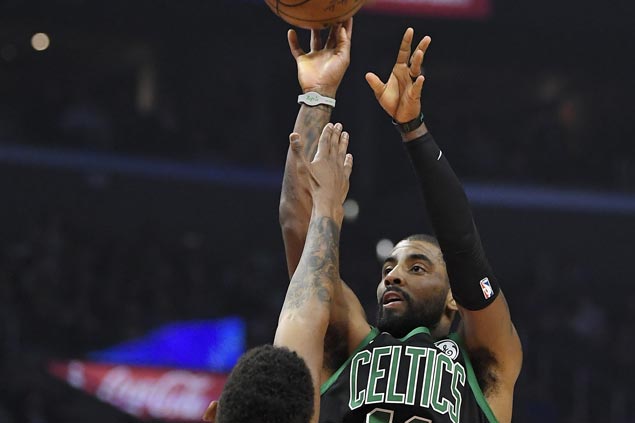 LOS ANGELES — Kyrie Irving scored 20 points, Jayson Tatum had 18 and the Boston Celtics defeated the Los Angeles Clippers, 113-102, on Wednesday night (Thursday, Manila time) to snap a season-high four-game losing streak.
The Celtics connected on 14 of 40 3-pointers and outrebounded the Clippers 47-40. Irving also had eight rebounds and seven assists.
Marcus Morris and Terry Rozier III each added 15 points for Boston.
Blake Griffin led the Clippers with 23 points and Lou Williams had 20 in Los Angeles' third consecutive loss. Griffin, however, was 1 for 7 on 3-pointers and Williams 6 of 18 from the field.
The Clippers had won six straight before starting their current losing streak.
The Celtics led 62-55 at the half and then opened the third quarter with a 6-0 run. The Clippers could never did regain the lead.
TIP-INS
Celtics: Al Horford hit his head in a loose ball scramble in the closing seconds against the Lakers on Tuesday, but the team said he did not suffer a concussion. Horford, who has had concussions in the past, was held out against the Clippers as a precaution. ... Marcus Smart was also out after cutting his hand on broken glass at the team hotel Wednesday and needing stitches. The team said it is investigating the incident.
Clippers: DeAndre Jordan returned after missing five games with a left ankle sprain. By playing Wednesday, he tied Randy Smith (715) for most games played in team history. ... Danilo Gallinari said his glute injury is improving, but there is still no timetable for his return. He has not played since Dec. 9th, and has played in only two games since Nov. 5th.
UP NEXT
Celtics: Play the third of their four-game trip Saturday at Golden State.
Clippers: Opens a two-game road trip Friday in Memphis.