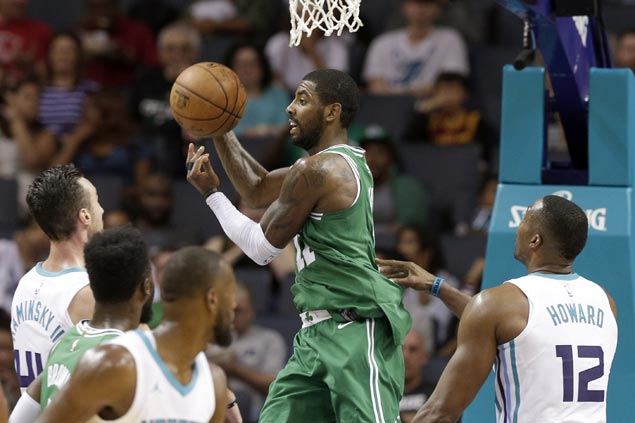 KYRIE Irving had 16 points and 10 assists as the Boston Celtics downed the Charlotte Hornets, 108-100, on Wednesday (Thursday, Manila time).
Al Horford added 15 points and eight rebounds as Boston wrapped up an unbeaten preseason.
Rookie Malik Monk scored 21 points to lead the Hornets, shooting 4 for 9 from 3-point range.
Dwight Howard had 12 points and six rebounds in his first home game.
CELTICS: Jaylen Brown showed he can defend multiple positions, blocking point guard Kemba Walker and forward Marvin Williams on back-to-back possessions. ... Gordon Hayward had 13 points.
HORNETS: Michael Carter-Williams (knee) will not be ready for the regular season opener, coach Steve Clifford said. Nic Batum (elbow), Jeremy Lamb (groin) and Michael Kidd-Gilchrist (personal) did not play. Rookie Dwayne Bacon went 4 for 4 on 3-pointers, accounting for all 12 of his points.
UP NEXT: Boston (4-0) opens the regular season against Cleveland on Tuesday. Charlotte (1-3) hosts Dallas on Friday.