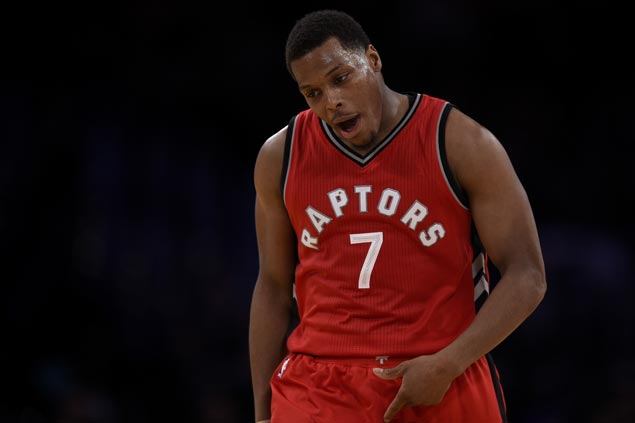 LOS ANGELES — Kyle Lowry relishes any chance to raise his offensive game in the fourth quarter and the Toronto Raptors needed just about every one of his big baskets to hold off the Los Angeles Lakers.
Lowry scored 20 of his season-high 41 points in the fourth as the Raptors stopped a two-game losing streak with a 123-114 victory on Sunday (Monday, Manila time).
He went 5 for 6 and hit three of his six 3-pointers in the fourth quarter. With one high-difficulty shot after another, the diminutive guard kept the Raptors on top in the face of the Lakers' persistent rally.
"It was my time to go out there and be more aggressive," said Lowry, who finished two points shy of his career high. "If it's taking the extra shot or making more shots or creating more shots, it's just a chance to go out there and play basketball. Playing in the fourth quarter is really fun."
Lowry also had nine rebounds and seven assists, while DeMar DeRozan scored 31 points in another big game in his hometown. The Atlantic Division-leading Raptors' two scoring stars got them back in winning form on the fifth stop of their six-game road trip.
"He could have had more," DeRozan said of Lowry's fourth-quarter dominance. "The fourth quarter has got to be ours on both ends. We've got to put our mark on it."
Toronto got its fourth straight win over the Lakers, sweeping the season series for the second straight year.
Nick Young hit seven 3-pointers and scored 26 points for the Lakers, who emerged from a miserable December with their 15th loss in 17 games despite a stirring late surge.
"That's a good team," Lakers coach Luke Walton said of the Raptors. "They have some All-Star Olympians that really carried the load for them. (Lowry) had it cooking."
ADVERTISEMENT - CONTINUE READING BELOW
D'Angelo Russell hit four of his six 3-pointers and scored 14 of his 28 points in the final period. The Lakers trimmed a 19-point deficit to six, but Lowry and Terrence Ross hit big shots down the stretch to keep Toronto comfortably ahead.
"I think the effort is there," Young said. "We're showing it. We have to limit the six-minute breakdowns we go through."