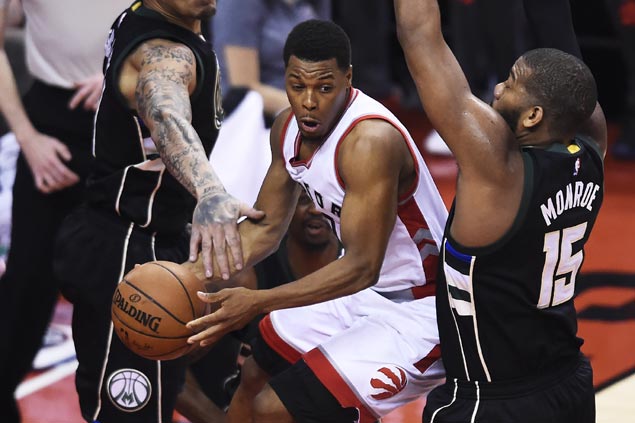 TORONTO — Kyle Lowry shrugged off his Game 1 struggles in style, and got the Raptors back on level terms.
Lowry scored 22 points, including the clinching basket with less than 10 seconds to play, as Toronto beat the Milwaukee Bucks 106-100 on Tuesday night (Wednesday, Manila time) to level their first-round playoff series at 1-1.
"I've been in the trenches with him before and he's always bounced back," Raptors coach Dwane Casey said. "That's just who he is. He's a competitor, he's a fighter. I just knew that he wasn't going to be satisfied with the way he played in the first game."
DeMar DeRozan had 23 points, Serge Ibaka added 13 of his 16 in the second half and Jonas Valanciunas had 10 points and 10 rebounds for the Raptors, who improved to 5-1 when playing Game 2 of a playoff series on their home court.
Giannis Antetokounmpo had 24 points and 15 rebounds for the Bucks.
Lowry scored just four points in Saturday's Game 1 loss, missing all six of his 3-point attempts.
He was much better in Game 2, going 6 for 12, including 2 of 5 from long range.
"We knew he was going to be more aggressive, we knew he was going to get his shot off," Antetokounmpo said. "Tonight he did a better job of shooting the ball and finding his teammates, too."
Of Lowry's six baskets, none was bigger than his step back jumper with 8.9 seconds remaining, which gave Toronto a 104-100 lead.
"The play was for DeMar to get a bucket," Lowry said. "That's our guy. He had two guys on him and he trusted us. He threw it to Serge and Serge gave it to me. For me, I just wanted to get to my spot. I knew there were five seconds on the shot clock and I wanted to get to my spot. I got to my spot and let it go."
While they couldn't snatch a second win away from home, Antetokounmpo said the Bucks had still managed to achieve something important.
"We definitely gained a lot of things out of these two games," he said. "We got their attention."
Toronto went 5 for 23 from behind the 3-point line in Game 1 but nearly tripled its output in Game 2, finishing 14 for 29.
"They made more 3s by halftime than they did in the whole game in Game 1," Bucks coach Jason Kidd said. "We've got to get those guys off the 3. That helped them."
Leading 84-83 through three quarters, Toronto opened the fourth with an 11-0 run that included a pair of 3-pointers by Ibaka, and a third from P.J. Tucker.
ADVERTISEMENT - CONTINUE READING BELOW
Milwaukee battled back, and a layup by Antetokounmpo cut it to 98-97 with 2:46 remaining, leading to a Raptors timeout.
Ibaka made a jumper to put Toronto up three but Antetokounmpo answered with a 3-pointer, tying it at 100-all with 2:03 left.
DeRozan broke the tie with a jumper and, after missed 3-pointers by Malcolm Brogdon and Matthew Dellavedova, Tucker missed a pair of free throws.
DeRozan grabbed the rebound on a missed jumper by Middleton, setting the stage for Lowry's decisive basket.
TIP-INS
Bucks: Antetokounmpo missed six of his first eight field goal attempts. His only made basket in the first quarter was a dunk. ... Antetokounmpo finished with seven assists.
Raptors: Ibaka started despite a sore left ankle sustained when he stepped on Antetokounmpo's foot in the third quarter of Game 1. ... Lowry had four rebounds and five assists. ... Former Toronto C Bismack Biyombo attended the
STEERING CLEAR OF SLUMPS
The Raptors have lost back-to-back games just once since the All-Star break, losing March 10 at Atlanta and March 11 at Miami.
TAKE TWO
Toronto is 6-6 all time in Game 2s.
UP NEXT.
The teams meet Thursday in Milwaukee.