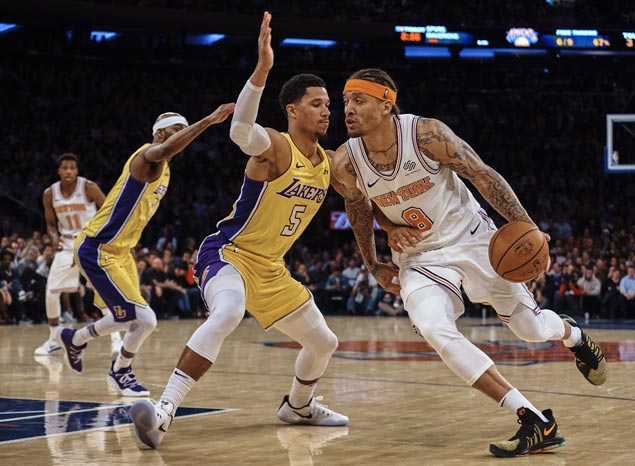 NEW YORK — Kristaps Porzingis had 37 points and 11 rebounds, Michael Beasley made the biggest plays in overtime, and the New York Knicks beat the Los Angeles Lakers, 113-109, on Tuesday night (Wednesday, Manila time).
Beasley had 13 points, including the tiebreaking follow shot, and an assist in the extra period as the Knicks went back over .500 at 14-13. Thirteen of their victories have come at Madison Square Garden.
Kentavious Caldwell-Pope scored 24 points for the Lakers, who had won two in a row on their trip. Rookie Kyle Kuzma added 19 points off the bench.
Lonzo Ball had 17 points, eight rebounds and six assists, with a dazzling third-quarter stretch that had father LaVar celebrating wildly from his courtside seat next to Lithuania-bound sons LiAngelo and LaMelo. But Lonzo was quiet after that period beyond two free throws early in OT.
The Knicks essentially won it with Beasley's flurry of a tip-in, a pass inside to Doug McDermott for a basket, and a driving layup that turned at 103-all game into a 109-103 lead with 1:24 remaining in the overtime.