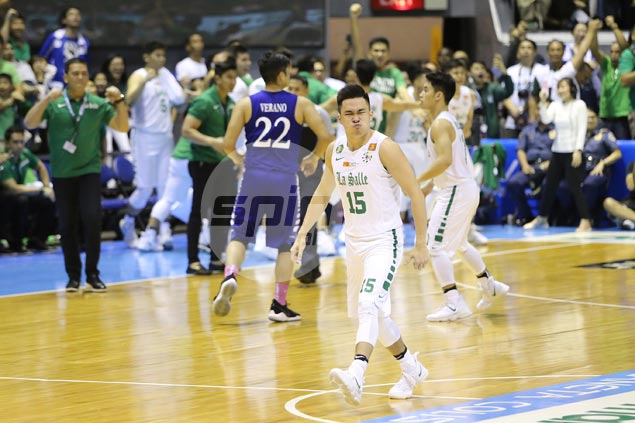 KIB Montalbo made up for his crucial blunder in their first meeting against Ateneo as the La Salle Green Archers spoiled the Blue Eagles' bid for an elimination round sweep in the UAAP Season 80 basketball tournament.
Though he came up with just six points, Montalbo came up with the biggest basket of the night as his floater with 40.3 seconds left gave the Green Archers their first lead since early in the third quarter.
It was a completely different story from their first-round meeting where his inbound pass was intercepted by Matt Nieto and was called for the foul that resulted in the game-winning free throw by the Ateneo guard.
But the proud son of Bacolod insists that wasn't on his mind.
"Hindi ko iniisip na babawi ako. I just wanna play my game, be aggressive, nung una I was a little bit gigil, di pala a little bit, sobrang gigil pala. Coach said kalma lang. Calm down. I calmed down and eventually settled down," said Montalbo.
"Well, coach called for a play. I didn't see anyone open, naka-deny lahat, I saw the lane and took what the defense gave me," he added.  "Yung team namin, anyone can take over. Whether you have it or not, if you have the shot, take it. I stick with that mentality."
Aldin Ayo said his faith in his captain never really wavered even after that blunder in the first rivalry match of the season.
That's why despite missing five of his seven attempts in his game, Montalbo was kept on the floor for the crucial moments, and the guard repaid his coach's trust.
"That first game when Kib made those mistakes, it didn't change the way kung paano ko titignan si Kib. He committed mistakes but he's part of the team. He's one of my leaders and he's my co-captain," said Ayo.
"Whatever he does, I am going to support him. Ang pagkakamali ng isa, pagkakamali ng buong team," he added.
That's the reason why Montalbo never really felt down after the first Ateneo-La Salle match.
"To have a coach like that really means a lot sa confidence level ng isang player. If you're open take the shot. Si coach kasi wala siyang hinahatak na player. If you're free take it. Whoever deserves to be on the court, will play," Montalbo continued.
ADVERTISEMENT - CONTINUE READING BELOW
Now the Archers focus on the job against third seed Adamson, looking to book a return trip to the finals.
"Really confident. Hopefully we'll peak on time. It ain't over til it's over, di kami magsstop until we get that crown," he added.