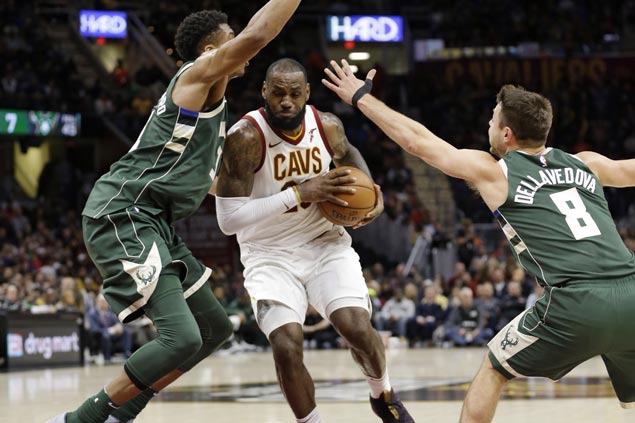 THE Cavaliers blew an early double-digit lead but did enough to regain control and hold off the Milwaukee Bucks, 124-119, on Tuesday in Cleveland (Wednesday, Manila time).
Kevin Love, back after being sent to the hospital during the game against Atlanta, showed the way for the Cavs with 32 points and 16 rebounds.
LeBron James came up with 30 points and nine assists, while JR Smith scored 19.
The Cavaliers scored only their fifth win in 11 outings.
Milwaukee absorbed its fourth straight loss and sixth in 10 games.
Giannis Antetokounmpo went 16 for 21 and wound up with 40 points in 40 minutes of action for the Bucks.
The Cavaliers led, 41-28 early in the second quarter on a Dwyane Wade jumper off a Derrick Rose assist, but the Bucks rallied and held a two-point advantage at the half.
Khris Middleton had 20 points and 11 assists, while Malcolm Brogdon scored 22 for Milwaukee.