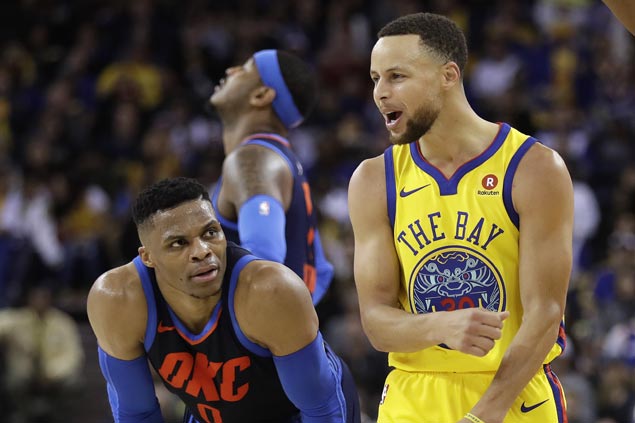 OAKLAND, California — Kevin Durant scored 28 points for Golden State while avenging an embarrassing home loss to his former Oklahoma City team earlier this month and another on the road in November, leading the Warriors past the Thunder, 112-80, on Saturday night (Sunday, Manila time).
Stephen Curry added 21 points, nine rebounds, six assists and three steals as Golden State put on the kind of defensive performance coach Steve Kerr has been seeking from the defending champs.
Russell Westbrook had 15 points, 12 rebounds and seven assists for Oklahoma City, which failed to reach 100 points for the first time in the last five games. The Thunder had scored at least 100 in 14 of their last 16.
Durant's pretty layup off a perfect pass by Curry with 3:06 left in the third put the Warriors up 75-66. That was part of a 37-11 Golden State run that included 30 points over the final 8:48 of the third.