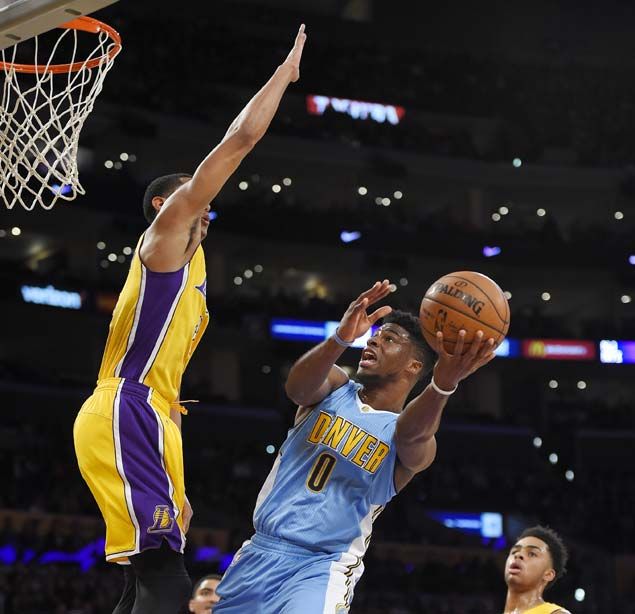 LOS ANGELES — Kenneth Faried had 28 points and 15 rebounds, and Danilo Gallinari got 14 of his 21 points in the second half of the Denver Nuggets' 120-109 victory over the winless Los Angeles Lakers on Tuesday night (Wednesday, Manila time).
J.J. Hickson scored 17 points in the Nuggets' fifth consecutive victory over the Lakers at Staples Center since November 2012. Faried dominated the low post, went 10 for 13 and hit all eight of his free throws in Denver's 10th win over Los Angeles in the clubs' last 11 meetings.
Jordan Clarkson matched his career high with 30 points, and Lou Williams added 14 of his 24 points in the fourth quarter for the Lakers, who started 0-4 for the second straight year.
Kobe Bryant had 11 points on 4-of-11 shooting, doing little to end his slump.
The 20-year veteran bemoaned his play two days ago after a loss to Dallas, and he took on Monday (Tuesday, Manila time) off practice to clear his mind.
Julius Randle had 16 points for the Lakers, who opened last season 0-5 before finishing with the worst record in the 16-time champion franchise's history.
The game featured the first meeting between teenage point guards D'Angelo Russell and Emmanuel Mudiay, respectively the second and seventh picks in last summer's draft. Russell had seven points and six assists before sitting on the Lakers' bench down the stretch, and Mudiay made a late surge to finish with 12 points and 10 assists.
Mudiay missed his first eight shots before hitting a 3-pointer while getting fouled by Russell in the third quarter, leading to a four-point play.
Denver took control midway through that quarter, scoring 15 points in 2:45 while hitting 11 of its last 15 shots in the period to turn a six-point deficit into a 10-point lead.