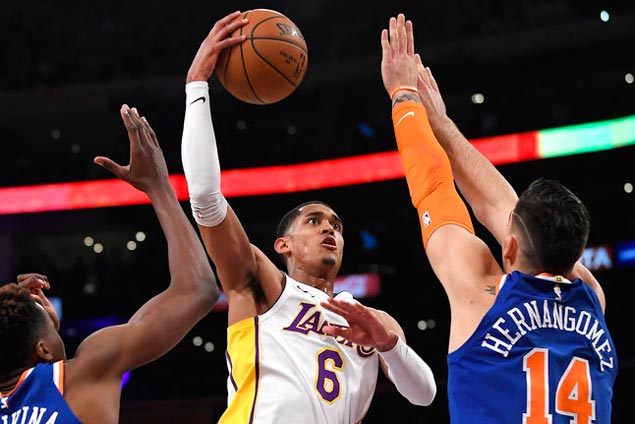 LOS ANGELES — When the Los Angeles Lakers complement their up-tempo offense with solid defense, this long-struggling team actually looks pretty good.
Even without Lonzo Ball, the Lakers were plenty good enough to run right past the New York Knicks, who couldn't keep up.
Jordan Clarkson had 29 points and 10 assists, Julius Randle added 27 points and 12 rebounds, and the Lakers beat New York, 127-107, on Sunday (Monday, Manila time) for their sixth win in eight games.
Kyle Kuzma added 15 points as the Lakers (17-29) continued a midseason surge of solid play. Rookie point guard Alex Caruso set career highs with nine points and eight assists, making the most of more than 30 minutes of playing time while Ball missed his fourth straight game with a sore left knee.
The Lakers thought they did nothing spectacularly, but everything well — particularly on the defensive end, where they forced 17 turnovers. Los Angeles also won its fifth straight game at Staples Center after a 6-14 start to the home schedule.
"Defense. That was the only message at halftime," Lakers coach Luke Walton said. "During our home win streak, we have been really, really good defensively."
Los Angeles took the lead late in the third quarter and pulled away down the stretch, scoring 10 consecutive points in a rally led by Clarkson and Randle. The Lakers finished on a 17-4 run.
"Randle and Clarkson, they were killing us," New York coach Jeff Hornacek said. "We tried multiple guys on both of them, but they took it to whoever was guarding them. That was a big key. We couldn't get any stops."
Kristaps Porzingis, Tim Hardaway Jr. and Michael Beasley scored 17 points apiece for the Knicks, who have lost 12 of 16. New York slipped to 2-2 on its seven-game trip.
Despite a solid shooting game, the Knicks couldn't answer the aggressive transition game favored by the Lakers, who put up their highest-scoring performance in two weeks.
ADVERTISEMENT - CONTINUE READING BELOW
"They just played harder than us in everything," said Enes Kanter, who had 12 points and 14 rebounds for New York. "They got a lot of offensive rebounds. We got a lot of turnovers. I don't think we can play like this in road games and expect to get a win."
Clarkson followed up his 33-point performance Friday against Indiana with another high-energy effort. The veteran guard hit 12 of his 19 shots and added six rebounds.