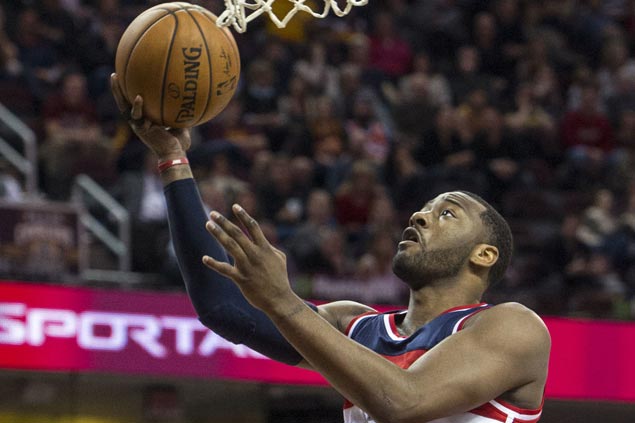 CLEVELAND — LeBron James yanked off the tinted googles protecting his injured eye and flung them away.
His vision was clear.
However, there was one blur that wouldn't go away: John Wall.
Washington's faster-than-fast star scored 37 points, Bradley Beal added 27 and the Wizards again showed they'll be a handful in the playoffs by beating James and the Cleveland Cavaliers, 127-115, in the NBA on Saturday night (Sunday, Manila time).
Wall scored 18 in the first quarter, when the Wizards shot 82 percent, and Washington held on down the stretch to avenge an overtime loss to the NBA champions last month. There's a chance the teams could meet up in the postseason, and if that happens, the Wizards believe they can hold their own.
"You don't want to go into the playoffs knowing you have to face those guys and you never won against them in the regular season," Wall said. "To come here and win in a tough place, it's definitely a boost."
James briefly wore goggles to protect a scratched cornea sustained Friday night at Charlotte, and scored 24 points with 11 rebounds and eight assists. Kyrie Irving added 23 points and Kevin Love 17 for Cleveland, playing at home for the only time in a seven-game stretch.
The Cavs, though, struggled again on defense and coach Tyronn Lue isn't certain there's time to fix everything.
"I'm not confident," he said, "but we've got to."
Washington's victory cut Cleveland's lead in the Eastern Conference to a half-game over idle Boston.
But even more importantly, the Wizards, who are 29-10 since Jan. 6 and within 2 ½ games of first, showed they could put a complete game together against the Cavs. They lost to Cleveland 140-135 on Feb. 6, when James banked in an impossible 3-pointer to force OT.
"When he (Wall) is making shots like that, they're a very tough team to beat," James said.
ADVERTISEMENT - CONTINUE READING BELOW
The Wizards, who opened a challenging five-game road trip that include games against the Clippers, Jazz and Warriors, didn't leave anything to chance this time.
"They're the defending champions," coach Scott Brooks said. "They've been playing incredible basketball all year. Our guys did a great job. Give our guys credit. This is the way you want to start the road trip."
Trailing from early in the first quarter, the Cavs got within four in the fourth and were down only eight when Wall scored on a layup and Otto Porter delivered a dagger dunk to make it 123-111.
Lue called time and pulled his starters, conceding the win to the Wizards, who are playing with swagger and have the look of a team poised to make some postseason noise.