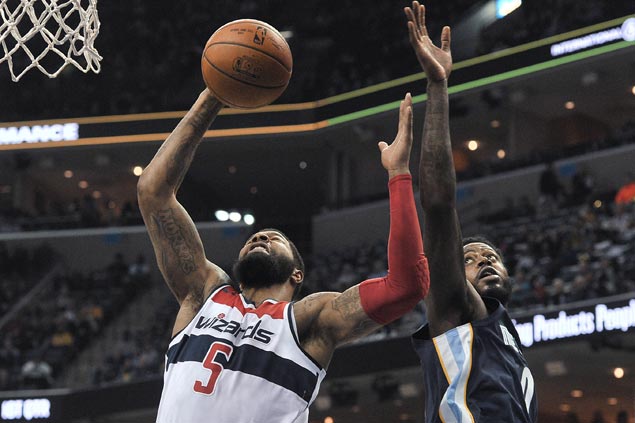 MEMPHIS, Tennessee — Bradley Beal scored 34 points, John Wall added 25 points and nine assists, and the Washington Wizards survived a late Memphis rally for a 102-100 victory over the Grizzlies on Friday night (Saturday, Manila time).
Markieff Morris, who had 12 points and matched his career high with 17 rebounds, converted a pair of free throws with three seconds left to provide the winning margin. Washington has won four straight.
Tyreke Evans led Memphis with 26 points, while Marc Gasol finished with 17 points and 11 rebounds as the Grizzlies lost their second straight.
Washington led by 15 with 9:34 left before weathering a late Memphis rally that pulled the Grizzlies to 97-94 when JaMychal Green connected on a 3-pointer with 1:20 left.
After Marcin Gortat split a pair of free throws, Evans would convert another 3-pointer and Memphis had rallied to 98-97 with 17 seconds left.
At that point, Washington was 2 of 16 in the quarter.
Beal made a pair of free throws for a 100-97 lead with 13 seconds left, Evans missed a 3-pointer with about five seconds to go, and Washington escaped.
The Wizards, who held a 12-point lead in the first half, extended it to as many as 17 in the third as Beal collected 13 points in the period.
Washington carried a 58-50 lead into the break behind the guard play of Wall (16 points) and Beal (15 points).
TIP-INS
Wizards: Mike Scott, who was shooting 66 percent (76 of 115) over the previous 14 games, made his first three shots and finished the night 4 of 6 … Morris recorded his second double-double of the season. The first came in the Wizards' previous game Wednesday against the Knicks.
Grizzlies: Mike Conley, who hasn't played since Nov. 13, said before the game there is no timetable for his return from a left Achilles tendon injury. He added, however, that he intends to play again this season. . Memphis finished a 10-game stretch in which it didn't play consecutive games in the same city. Seven of those were played on the road ... Memphis is 1-12 against the Eastern Conference, with the only win coming Dec. 15 when it defeated Atlanta 96-94 ... Andrew Harrison sat out with a left shoulder injury.
UP NEXT
Wizards: Host Milwaukee on Saturday.
Grizzlies: Face the New Orleans Pelicans at home on Wednesday.