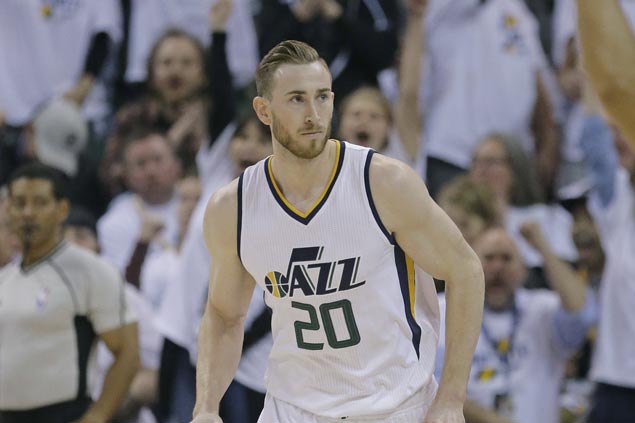 SALT LAKE CITY — The Utah Jazz took the long stride from lottery team to the No. 5 seed in the NBA Western Conference playoffs this season but general manager Dennis Lindsey knows significant hurdles remain before the team becomes a true contender.
His first priority is making sure the Jazz retain key players.
"Player retention would be the next step," Lindsey said Thursday. "Player development. A strategic add that can complement the group where there's just a really good fit. Whether that fit is mentality, experience or skill-set."
The Jazz rose to this moment with a patient rebuild that included allowing a young core to develop and not adding outside pieces too soon that would stunt that growth. This is a draft and develop program and that is most visible in Gordon Hayward and Rudy Gobert.
Hayward was named a first-time All-Star and had the best season of his career while Gobert has gone from the Development League to second-team All-NBA. Gobert signed a four-year, $102 million extension in the fall.
The addition of George Hill, Joe Johnson and Boris Diaw helped get the Jazz over the playoff hump, but internal growth was the biggest difference and Lindsey is banking on more of the same.
And when the Jazz talk retention, Hayward is at the top of that list.
Hayward has a player option for next season on the contract he signed in 2014 but is expected to forgo that and become an unrestricted free agent. He's likely to receive a maximum contract wherever he signs, and the Celtics are rumored to be in the mix with his college coach Brad Stevens now leading the East's No. 1 playoff seed.
Next is point guard George Hill, who also had a career year, but will be an unrestricted free agent this summer.
The Jazz want to keep both and hope some internal growth can help in a few other areas.
ADVERTISEMENT - CONTINUE READING BELOW
The Jazz ranked No. 28 in points per game (100.7) this season, but that could improve from the development, and health, of Rodney Hood, Derrick Favors, Dante Exum and Trey Lyles.