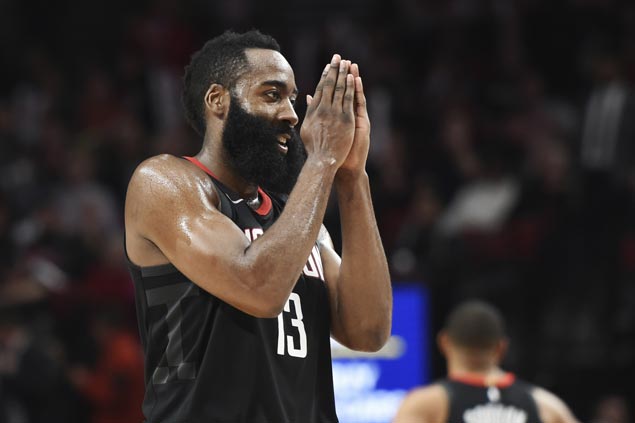 PORTLAND, Oregon —James Harden scored 48 points and the Houston Rockets won their ninth straight, overcoming a 14-point, fourth-quarter deficit to beat the Portland Trail Blazers 124-117 on Saturday night (Sunday, Manila time).
Harden was 16 of 29 from the field and had eight rebounds to help the Rockets (20-4) win for the 12th time in 13 road games this season. Chris Paul added 24 points, and Trevor Ariza had 13.
Damian Lillard tied a franchise record with nine 3-pointers and had 35 points for Portland (13-12). C.J. McCollum had 28 points, and Al-Farouq Aminu added 15, all on 3-pointers.
Portland put Houston in a hole early in the third quarter, scoring 11 consecutive points to take a 78-72 lead.
The lead grew was at 14 late in the third quarter when Lillard limped to the bench, favoring his right foot.
With Lillard's foot on ice, Houston launched a rally, pulling to 103-98 when Lillard returned with seven minutes remaining. But the Rockets had momentum, and took a 110-109 lead on Ariza's 3-pointer.
The Rockets never trailed again, outscoring Portland 14-6 during the final three minutes.