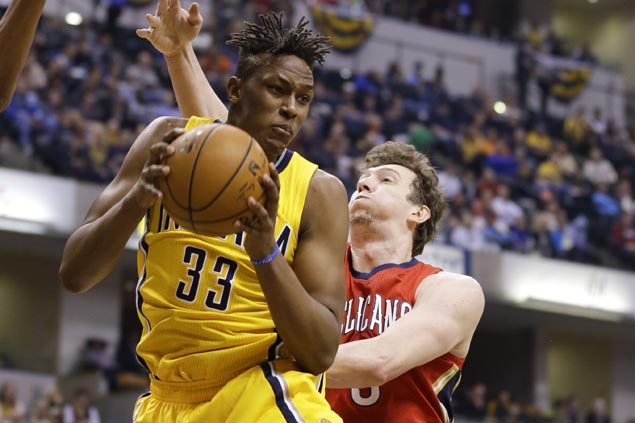 INDIANAPOLIS — Myles Turner scored 24 points and had a career-high 16 rebounds on his 20th birthday, and C.J. Miles added 19 points in the Indiana Pacers' 92-84 victory over the New Orleans Pelicans on Thursday night.
The Pacers have won two straight but lost Paul George in the third quarter with what was initially described as a bruised right leg. The three-time All-Star did not return.
Alexis Ajinca led New Orleans with 22 points, and Tim Frazier had a career-high 18. The Pelicans have lost seven of nine, this one coming with only eight players available.
But the Pelicans still made it tough on Indiana.
They didn't allow the Pacers to take control until late in the first half when Turner scored eight straight points to start a 13-2 spurt. That made it 49-37.
New Orleans couldn't get closer than four the rest of the night.
Turner delivered the best overall game of his rookie season. He was 11 of 17 from the field, had three blocks, his third double-double and drew a roar from the crowd with a one-handed windmill dunk in the first half.
The Pacers needed everything he could give them on a night they looked uninspired — even before losing George, who had 15 points and four rebounds.
Eight Pelicans missed the game with injuries which created an unusual sight on the bench, more people dressed in suits than players in uniform.
GETTING TOUGH
Indiana coach Frank Vogel appreciates the effort his team is making defensively. He'd just like to see it show up more on offense. After coasting to a 91-75 victory over Philadelphia on Monday night, Vogel took the rare step of challenging his team publicly before Thursday's game. "I don't think we've played hard enough offensively," he said. "We've played really hard defensively, but not hard enough offensively. When asked to expand on what he meant, Vogel said: "Running lanes, cutting hard enough, working hard enough to get open, physicality."
ADVERTISEMENT - CONTINUE READING BELOW
TIP-INS
Pelicans: Anthony Davis, Eric Gordon, Jrue Holiday, Norris Cole, Ryan Anderson, Bryce Dejean-Jones, Tyreke Evans and Quincy Poindexter all sat out with injuries. ... Toney Douglas, who started this season in training camp with the Pacers, got the start and finished with 13 points. ... After forcing 25 turnovers and coming up with a franchise record 21 steals in the first game against the Pacers this season, the Pelicans forced 14 turnovers and had seven steals Thursday.
Pacers: Have swept New Orleans five straight seasons and their 10-game winning streak in the series is Indiana's longest active streak against an NBA team. ... Jordan Hill missed the team's shootaround because of personal reasons but finished with four points and four rebounds in 15 minutes. ... George Hill had six points and eight assists.
UP NEXT
Pelicans: Host Toronto on Saturday.
Pacers: Visit Brooklyn on Saturday.