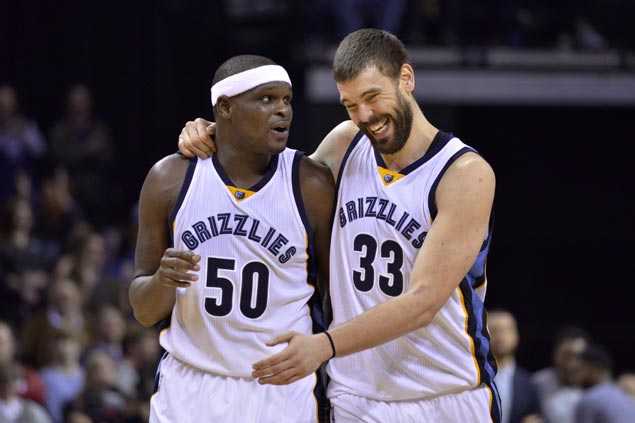 MEMPHIS, Tennessee — David Fizdale helped coax even better play out of Mike Conley and turned Marc Gasol into a 3-point shooter. The first-year coach also helped the Grizzlies extend their franchise record streak of postseason appearances to seven.
As with many of the Grizzlies postseason hopes, the San Antonio Spurs dashed them yet again by ousting Memphis in six games with the clincher Thursday night (Friday, Manila time), 103-96 .
And the coach now best known for his memorable rant against officiating will look to see how he can get better before the Grizzlies face an offseason featuring some of their biggest roster decisions in years.
"It will always be about how we get the Memphis Grizzlies and this city to hold the trophy and get a parade down Beale Street," said Fizdale, who earned fan loyalty with the rant after Game 2 that cost him a $30,000 fine from the NBA .
The Grizzlies went 43-39 in Fizdale's debut season. The former lead assistant for the Miami Heat pushed Conley to take a larger leadership role along with giving Gasol the green light to shoot more from behind the arc. He also moved Zach Randolph to a reserve role in a new lineup.
Gasol and Conley flourished. Conley, with a new 5-year, $153 million contract in his pocket , became the leading scorer with Gasol second bolstered by knocking down 104 3-pointers during the season. But the Grizzlies struggled with too many losses to teams with losing records, sliding to the seventh seed after being just 1 ½ games back of the fourth seed at the All-Star break.
"We didn't get as far as we wanted to," veteran Vince Carter said. "It was an up and down year."
Whether the Grizzlies can extend the postseason streak is uncertain.
Randolph, who turns 35 this summer, and defensive stalwart Tony Allen who's already 35 both are headed to free agency. Carter, 40, and JaMychal Green also could depart.
Getting Chandler Parsons healthy will be a major offseason priority. The Grizzlies' free agent signee dealt with knee problems throughout the season before being shut down in March.
"With him and his abilities and what we know he can do, we're a different team," Conley said.