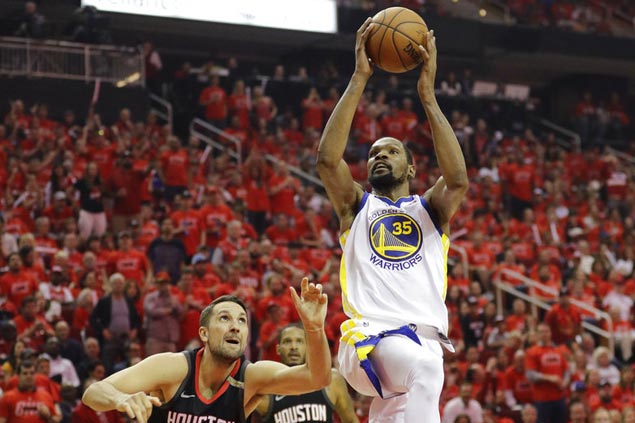 THE Golden State Warriors again came up with their trademark third quarter assault to take control and eliminate the Houston Rockets with a 101-92 Game Seven win in the Western Conference finals on Monday in Houston (Tuesday, Manila time).
Steph Curry and Kevin Durant showed the way for the Warriors, who trailed by 15 in the second quarter but went on a 33-15 third period to seize control.
The Warriors arranged a fourth straight title showdown with LeBron James and the Cleveland Cavaliers, who beat the Boston Celtics in seven games in the Eastern Conference finals.
Curry finished with 27 points and 10 assists, falling just a rebound shy of a triple-double.
Durant scored 34 on 11 of 21 shooting, Klay Thompson had 19 points, while Draymond Green added 10 points and 13 rebounds.
The top-seeded Rockets, without Chris Paul, got 32 points from James Harden and 23 from Eric Gordon.