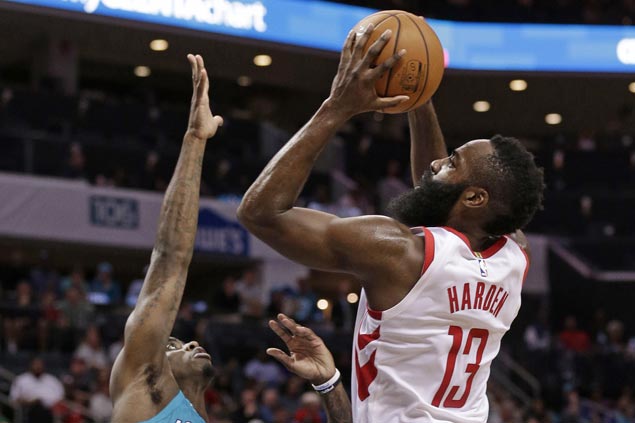 CHARLOTTE, N.C. — James Harden had 27 points, 11 assists and 10 rebounds, and the Houston Rockets made 22 of 57 3-point attempts in a 109-93 victory over the Charlotte Hornets on Friday night.
The Rockets nearly broke their own NBA regular season records of 24 3-pointers made and 61 3-pointers attempted set last December.
Eric Gordon and Ryan Anderson led the 3-point barrage. Gordon was 6 of 16 from beyond the arc and had 26 points, while Anderson was 6 of 15 and finished with 21 points.
The Rockets took advantage of the Hornets' cold shooting in the first half and took a 10-point lead at halftime. The Hornets started the second half on an 8-0 run but could never get the lead and the Rockets pulled away in the fourth quarter.
Kemba Walker led the Hornets with 26 points, and Dwight Howard had another strong game with 19 points and 16 rebounds against his former team. It's the fifth straight game Howard has recorded at least 15 rebounds.
However, Howard's poor free throw shooting -- he was 5 of 15 -- cost the Hornets points and momentum. The Rockets fouled Howard in the fourth quarter, willing to trade three points for one.
At one point in the second quarter Howard made both free throw attempts -- banking the second one off the glass -- and crowd erupted in a sarcastic cheer.
TIP INS
Rockets: Outscored the Hornets 29-16 in the second quarter and held the Hornets to 4 of 22 shooting from the field. ... Chris Paul, Nene and Trevor Ariza did not play due to injuries.
Hornets: Shot 31.3 percent from the field in the first half. ... Howard recorded his 670th career double-double. ... Nic Batum, Cody Zeller, Michael Carter-Williams, Treveon Graham and Julyan Stone did not play due to injuries.
UP NEXT
Rockets: At Memphis on Saturday night.
Hornets: Host Orlando on Sunday night.