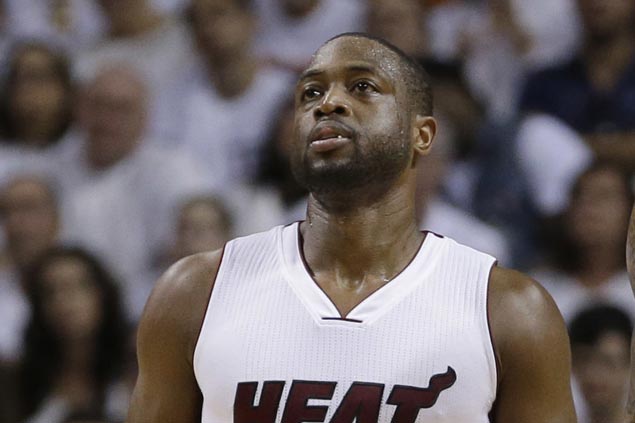 MIAMI — Dwyane Wade was the first Miami Heat player to line up for the playing of "O Canada" on Monday night (Tuesday, Manila time).
Lesson learned.
The Heat guard apologized Monday to anyone who was offended by his actions before Saturday's Toronto-Miami matchup, when he took a few extra warm-up shots at the beginning of the singing of "O Canada." Video showed Wade continued his pregame routine for about 20 seconds before he took his spot in line with the rest of his teammates.
Wade issued the apology after Miami's 94-87 victory that tied the Eastern Conference semifinals. Game Five is in Toronto on Wednesday.
"No disrespect at all from me," Wade said. "I apologize for Canada thinking I would disrespect them as a country. So today, I just adjusted how I normally get ready for a game and got in the line first.
"I have so much respect for the Toronto Raptors, obviously, and I have respect for the country of Canada," Wade added. "So I didn't mean any disrespect."
[See Heat overcome Raptors in overtime to even Eastern Conference semis]
Wade often doesn't line up for the pregame anthem until he makes a certain shot, though during most games in Miami the playing of "The Star-Spangled Banner" is usually preceded by a brief ceremony honoring military personnel — which buys him a few more seconds to line up before the anthem begins.
When the Raptors, Canada's only NBA team, come to Miami, the anthem schedules are altered to accommodate the length of two songs instead of one. The military ceremony remains in its usual place in the Heat pregame routine.
The NBA spoke with the Heat about the matter and asked the team to ensure pregame routines wouldn't interfere with the anthem performances going forward. Some Canadian politicians complained about Wade's perceived slight on Twitter, including Toronto Mayor John Tory.