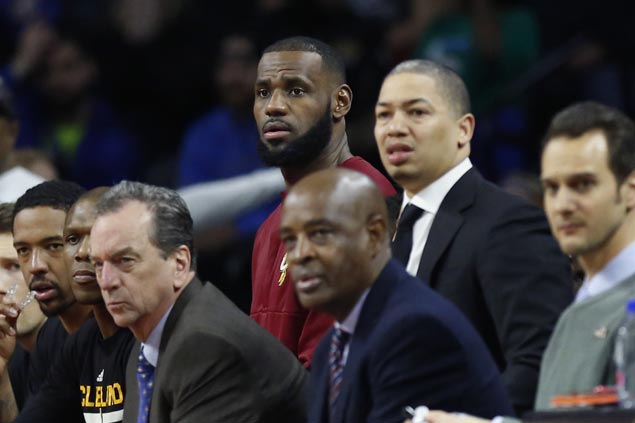 AUBURN HILLS, Michigan — LeBron James took the night off, and that was exactly the break the Detroit Pistons needed to snap a five-game losing streak.
Tobias Harris scored 21 points to help the Pistons beat the Cleveland Cavaliers 106-90 in the NBA on Monday night (Tuesday, Manila time) while James sat out resting.
"Any time you go through a stretch like that, you're just fighting for a win," Harris said. "It could change a lot, so hopefully we take this one and move forward and continue to build some consistency."
James missed his third game of the season, and Cleveland has lost all three. The Cavaliers had their five-game winning streak ended in a match they never led.
Cleveland was playing its fifth game in seven days and coming off a thrilling win Sunday over Golden State. So James sat, and the Pistons took advantage.
"They haven't played since Friday and they've been sitting here waiting for us. Give them credit, because that's what they are supposed to do," Cleveland's Kyrie Irving said.
"They knew we were flying in here after the Golden State game, and they were resting up and waiting for us. They jumped on us early, but it might have been different if they were coming off a back-to-back and we had two days of rest."
The Cavs were also playing their fourth game without starting guard J.R. Smith, who is expected to miss three months because of a broken right thumb.
Detroit scored the first eight points, led 50-44 at halftime and took control near the end of the third quarter. Harris and Kentavious Caldwell-Pope made 3-pointers early in the fourth, and the Pistons led 82-65.
Kevin Love had 17 points and 14 rebounds for Cleveland.
There was some booing when James was announced as a scratch before the game. Although the crowd was certainly happy to see the Pistons play well, the atmosphere wasn't quite as raucous as it would have been had Detroit routed the Cavs with Cleveland's top player in the lineup.
ADVERTISEMENT - CONTINUE READING BELOW
"LeBron is obviously a great player who opens up the floor for his teammates, so other guys have to step up," Cavs coach Tyronn Lue said. "I thought we tried to do that tonight, but it didn't happen."
The Pistons went 16 of 28 from 3-point range, and Andre Drummond had 11 points and 17 rebounds.
Cavalier Tristan Thompson became the first player in franchise history to play in 400 consecutive regular-season games.