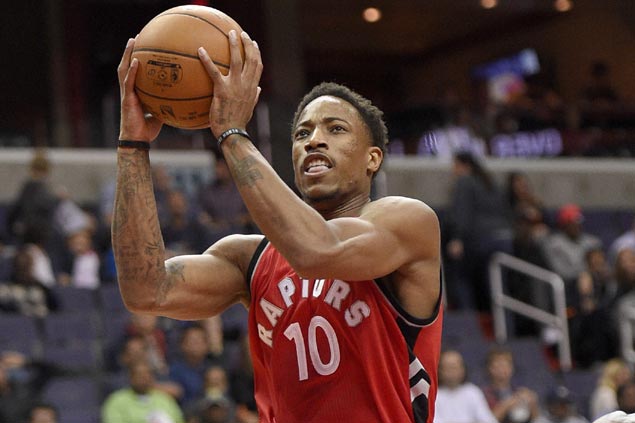 TORONTO — DeMar DeRozan is looking like one of the NBA's premier scorers this season. He just isn't feeling like it yet.
DeRozan had 33 points and Kyle Lowry made a couple key baskets late to finish with 29 points, helping the Toronto Raptors beat the Denver Nuggets 105-102.
DeRozan is the first ever Raptor with three straight 30-point games to begin a season, and he and Oklahoma City guard Russell Westbrook are the only players to do it this season.
Despite all that scoring, DeRozan quickly cut off comparisons to stars like Westbrook or New Orleans forward Anthony Davis, who each have a 50-point game already this season.
"Do you see what they were doing?" DeRozan said. "That's video game numbers. It's awesome just to ... have your name in any type of conversation about elite, top players."
DeRozan's run of 30-point games is one shy of Mike James' stretch from 2006 for the longest run at any point in the season. He's also the first to start a season with three straight 30-point games without a 3-pointer since Kobe Bryant did it for the Lakers in 2005.
Danilo Gallinari, Will Barton and Emmanuel Mudiay each had 16 points for Denver, and Jusuf Nurkic added 13 points and a career-high 18 rebounds.
After leading by as many as 19 in the second quarter, Toronto took its foot off the gas in the second half. Denver grabbed its first lead in over 34 minutes on Chandler Wilson's 3-pointer with 8:49 to play, and it took a furious Raptors rally down the stretch to pull out the win.
"It got away on the defensive end," Toronto coach Dwane Casey said. "We gave up 35 points in the third quarter. What saved us was getting into the paint. We had 58 points in the paint."
TIP INS
Nuggets: Darrell Arthur (knee) and Gary Harris (groin) missed their third straight games. ... Coming into Monday's game, Denver had won eight of its last 12 games in Toronto.
ADVERTISEMENT - CONTINUE READING BELOW
Raptors: Lucas Nogueira (ankle) did not dress for the game. ... The Raptors got their first win over Denver in almost two years. Despite setting a franchise record with 17 wins over Western Conference opponents last season, Toronto was 0-2 against Denver. ... The Raptors are now 4-4 when playing on Halloween.
HALFWAY THERE
Denver coach Michael Malone was upset the Nuggets waited until the second half to get in gear for the second straight game.
"When you play against a team that was in the Eastern Conference Finals last year, you can't do that," he said. "I'm very proud of our effort. We outscored them by 10 in the second half, gave ourselves a chance to win, took the lead, but you can't spot that team that half that we did."
BOARD PATROL
The Nuggets (59.5) and Raptors (51) entered as first and tied for third in average rebounds per game, but it was the Raptors who led the way, taking a 46-43 edge.
HALLOWEEN HOMECOMING
Denver rookie Jamal Murray, who grew up about 70 miles from Toronto in Kitchener, Ontario, played his first professional game in Canada. After scrambling to secure over 100 tickets for friends and family, Murray scored his first NBA basket following a technical foul with 10:41 to go in the fourth quarter.
DOWN AND OUT
Barton went down with 30 seconds remaining in the third quarter after twisting his left ankle stepping on the foot of Toronto rookie Jakob Poeltl. Denver called a timeout and Barton eventually headed to the locker room visibly limping and did not return to the game. X-rays on the ankle were negative.
UP NEXT
Nuggets: Continue their five-game swing with a matchup against Minnesota, where Denver has won four straight.
Raptors: Visit Washington in their first road game of the season. Toronto has a seven-game win streak over the Wizards.
ADVERTISEMENT - CONTINUE READING BELOW