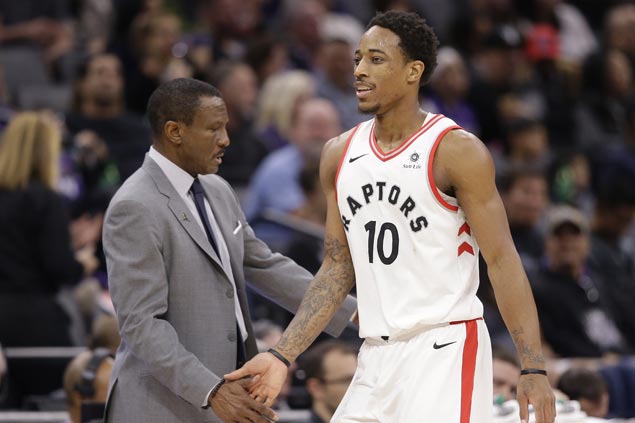 TORONTO — DeMar DeRozan scored 21 points, Jonas Valanciunas had 13 points and a season-high 16 rebounds and the Toronto Raptors won their ninth straight home game Sunday (Monday, Manila time), beating the Sacramento Kings 108-93.
Kyle Lowry scored 16 points and Norman Powell had 14 for the Raptors, who are an NBA-best 11-1 at home.
Toronto won for the ninth time in its past 10 and improved to 11-4 against Western Conference opponents.
Bogdan Bogdanovic and Garrett Temple each scored 18 points and George Hill had 16 for the Kings, who are 4-13 away from home, tied with Atlanta for the most road losses in the league.
The Raptors, who snapped an eight-game losing streak in Sacramento with a 102-87 road win last Sunday, swept the Kings for the first time since 2014-15.
Sacramento, which lost for the fifth time in seven games, was without leading scorer and rebounder Zach Randolph (rest) and guard De'Aaron Fox, who sat for the first time this season because of a bruised right thigh sustained in Thursday's loss at Minnesota.
Raptors forward Serge Ibaka was not available (left knee), but C.J. Miles returned after missing Friday's game because of a sore left shoulder. Miles started for the first time this season.
Sacramento trailed 96-88 after a jump shot by Bogdanovic with 2:28 remaining, but a step-back 3-pointer by Fred Van Vleet with the shot clock expiring gave Toronto a 99-88 edge with 1:38 left. After a Kings timeout, and a missed 3-pointer by Hill, Lowry sealed it with his fourth 3-pointer.
DeRozan gave the Raptors a 61-60 lead with a pull-up jump shot with less than two seconds remaining in the first half, but George Hill banked in a 46-foot 3-pointer from midcourt at the buzzer, giving Sacramento a 63-61 edge at the intermission.
Sacramento made seven turnovers in the third, two of them during a 10-2 Toronto run late in the quarter that gave the Raptors an 83-77 lead heading to the fourth.
TIP-INS
Kings: A five-time All-Star in his seven seasons with the Raptors, Vince Carter was cheered during pregame introductions and every time he checked in at what could be his final game in Toronto. Fans stood and cheered when Carter was replaced late in the fourth, and he acknowledged the crowd with a wave. Carter finished with four points.
Raptors: All five starters scored in double figures. ... Six of Toronto's first field goal attempts were 3-pointers. They made four.
ADVERTISEMENT - CONTINUE READING BELOW
UP NEXT
Kings: Visit Philadelphia on Tuesday. It's the first game of a back-to-back for Sacramento, which wraps up a four-game road trip at Brooklyn on Wednesday.
Raptors: Visit the Hornets on Wednesday. Toronto is 11-25 all time in Charlotte.