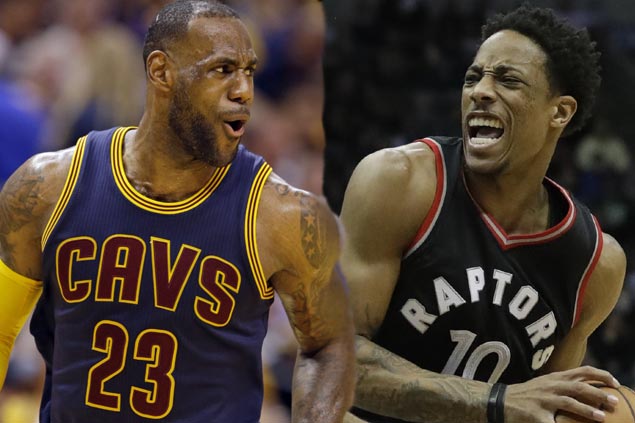 CLEVELAND — We The North vs. We Are The Champions.
One round earlier than a year ago, Toronto and Cleveland are meeting again in the NBA playoffs.
On the way to winning their first title last season, LeBron James and the Cavs took care of the Raptors in the Eastern Conference finals, a series that was tied 2-2 before Cleveland won the final two games. The teams finished this season with identical 51-31 records and their history makes for an intriguing May matchup.
"They know us," James said, "and we know them."
After sweeping Indiana in the opening round, the Cavs will have waited a full week before Monday's (Tuesday, Manila time) Game 1 tips off at Quicken Loans Arena, where Cleveland is 15-1 against conference opponents over the past three postseasons.
The down time gave James and his teammates a chance to recharge, heal some nagging bumps and bruises and prepare for a Toronto team that not only added Serge Ibaka (acquired from Orlando in February) and P.J. Tucker (acquired from Phoenix at the trade deadline) this season, but is looking for revenge after having its season ended by Cleveland in 2016.
These Raptors don't want that to happen again.
"We've got some fighters and scrappers," coach Dwane Casey said after Toronto eliminated Milwaukee in six games. "The guys are going to compete. We make it hard on ourselves sometime, but at the end of the day we're going to go down swinging."
They submitted last year in Game 6 at home, when James scored 33 points with 11 rebounds, six assists and three blocks in Cleveland's 113-87 win.
"He canceled Christmas," Casey said earlier this season. "One of these days ... one of these days."
For the Raptors to knock off the Cavs, whose shaky defense still showed some significant holes against the Pacers, Toronto stars DeMar DeRozan and Kyle Lowry will have to be at their best.
ADVERTISEMENT - CONTINUE READING BELOW
"The two-headed monster," Cleveland coach Tyronn Lue said.
DeRozan averaged 23.5 points per game in the opening round against the Bucks and may need to bump that into the 30s for the Raptors to have a chance. He believes the Raptors are better equipped to battle the Cavs this time.
"It's just on us to put it together consistently," he said. "We showed spurts of how great of a team we can be then we have lapses here and there. If we come together out there on the floor no matter what happens, as long as we come together, we can compete with anybody."
Toronto lost three of four against Cleveland this season with the only win coming in the season finale, when Lue rested James, Kyrie Irving and Kevin Love.