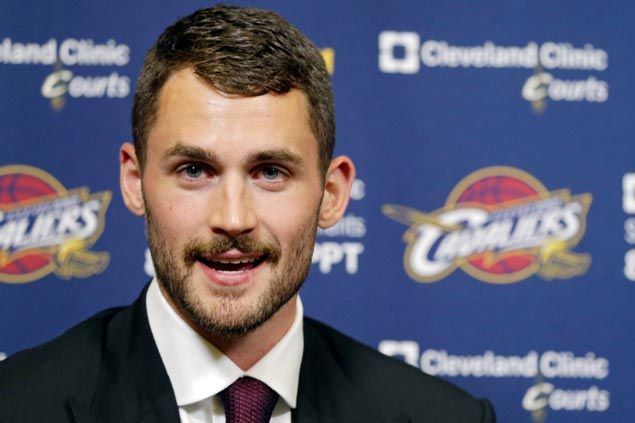 INDEPENDENCE, Ohio — Kevin Love's phone rang in July and LeBron James asked the All-Star forward if he wanted to play with him in Cleveland.
"I'm in," Love told James.
For the long haul.
Getting used to a new city and new team after being acquired by the Cavaliers on Saturday, Love said he's committed to winning an NBA title with the Cavaliers — however long it takes.
Love, who didn't make the playoffs during six sometimes rocky seasons with Minnesota, can opt out of his contract and become a free agent next summer. But 25-year-old Love, regarded as the game's top "spacing" forward, said he intends to stay with James and the Cavs.
"I'm committed to this team, committed long term to the end goal and that's to win championships," he said.
Cleveland is smitten with its newest superstar.
Love was introduced Tuesday (Wednesday, Manila time) by the Cavs, who acquired him in a blockbuster, three-team trade that instantly turned Cleveland, which won just 33 games last season, into an NBA championship favorite. The deal also gives the team a star-powered trio in Love, James and Kyrie Irving.
Love and James became friends two summers ago as US Olympic teammates in London. It was there, while chasing a gold medal together, that James began recruiting Love, who wasn't sure what to make of the four-time league MVP's overtures.
"Sitting next to me, a locker really close to me and he would always tell me how good he thought I was," Love said. "For me I would just kind of brush it off and shake it off because I was standoffish because I didn't know him well."
James persisted and after more conversations, Love realized there could be a time when their careers could intersect again.
"I thought that one day maybe I could play with LeBron James," he said.
ADVERTISEMENT - CONTINUE READING BELOW
And now that Love is gone, the Timberwolves are left to rebuild around No. 1 overall pick Andrew Wiggins and last year's top pick, Anthony Bennett, two young players they were able to pry from Cleveland.