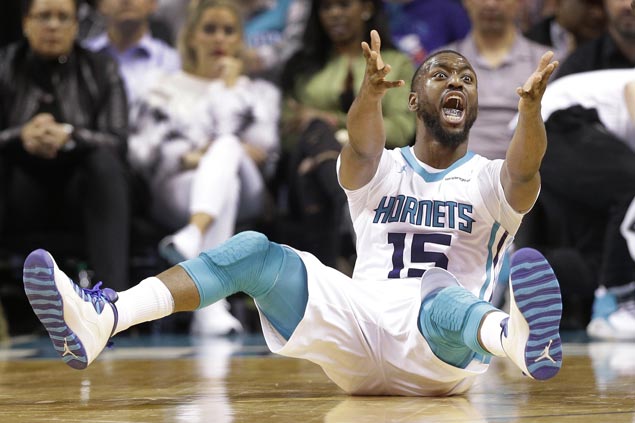 MILWAUKEE — With Dwight Howard going out early, Kemba Walker did his best to give the Charlotte Hornets a chance to grab a road victory against the Milwaukee Bucks.
But when Walker went down with an apparent injury late in the fourth quarter, the Bucks capitalized, closing on a 9-0 run for a 109-104 victory Friday night.
"This was a tough game," Bucks coach Jason Kidd said. "There were a lot of emotions in the last game we played. Charlotte is playing extremely well and hard, especially with their coach out. ... They were right there and we found a way down the stretch to make plays on both ends."
After Walker gave Charlotte a 104-100 lead with 2:24 remaining, Milwaukee held the Hornets scoreless the rest of the way. The Bucks tied it on dunks by Giannis Antetokounmpo and Khris Middleton and took the lead on Eric Bledsoe's layup.
Middleton scored 28 points, Antetokounmpo had 26, and Bledsoe had 24 points and 10 assists in the first game of the home-and-home set.
Walker had 32 points before leaving with an apparent injury after losing the ball and falling to the floor with the game tied at 104 with 1:42 to play. He also went to the ground in pain in front of the Hornets bench just 39 seconds into the fourth quarter and did not return until there was 5:37 left.
"That's tough for them," Middleton said. "He's their leader, he's their fourth-quarter player and late-game player, makes big shots and big plays for them, so we got a little luck with him going out. We did a great job of taking advantage.
The Hornets did not provide an update as to why Walker left the game. Howard played just five minutes after dislocating his left ring finger in the first quarter.
Hornets interim coach Stephen Silas was unsure as to if either of his top two scorers would play when the two teams meet in Charlotte on Saturday.
"Those are our two main guys," Silas said. "If we could get healthy, and try to figure out the (Bucks) small lineup, I don't think we did a good job of that today."
Former University of Wisconsin star Frank Kaminsky added 16 points for Charlotte, and Marvin Williams had 15 points and 10 rebounds.
The Hornets opened a 75-64 lead with 5:50 left in the third quarter. Milwaukee then went on a 12-0 run to take a 76-75 advantage on Middleton's dunk with 3:16 left in the third.
ADVERTISEMENT - CONTINUE READING BELOW
Milwaukee took the lead twice in the final minute of the third quarter, but Walker answered with 3-pointers each time to give the Hornets an 85-83 lead heading to the fourth.