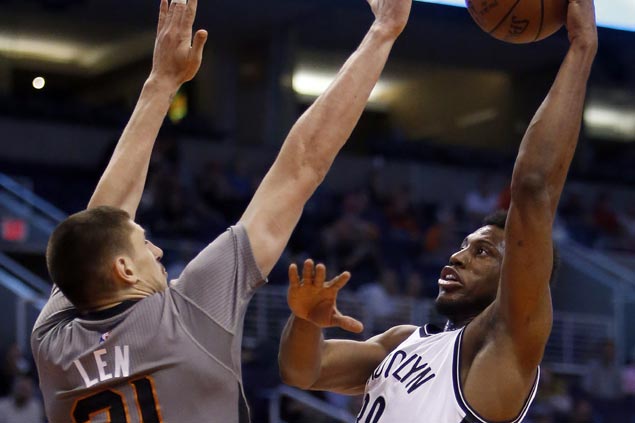 PHOENIX — Bojan Bogdanovic scored a season-high 24 points to lead the Brooklyn Nets to a 116-106 victory over the Phoenix Suns on Thursday night (Friday, Manila time) in a game between two of the NBA's worst teams.
Mirza Teletovic led the Suns with a season-high 30 points, but Phoenix lost its 13th consecutive game, tying a single-season franchise record. The Suns' eighth straight loss at home is a franchise worst.
Thaddeus Young added 18 points, eight rebounds and seven steals, and Donald Sloan had 13 points, nine rebounds and six assists for the Nets, who waived veteran Joe Johnson earlier Thursday after agreeing to a buyout.
Teletovic, a former Nets player, added 11 rebounds and Tyson Chandler had 12 points and 11 boards. The Suns cut the lead to 105-95 with 2:08 left but got no closer.
The Suns trailed the entire second half and never by less than 10 points. They fell to 14-44, while the Nets improved to 16-42.
Phoenix took a 13-6 lead with guard Ronnie Price hitting his first four shots, part of his 16 points. But that dissipated quickly as Bogdanovic scored 13 points in the first quarter and 20 in the first half.
Phoenix cut the lead to 46-42 in the second quarter, but Brooklyn scored the final 14 points of the period in the last 2:09. Bogdanovic and Wayne Ellington hit 3-pointers and Bogdanovic scored on a fast-break layup with 1.5 seconds left, giving the Nets a 66-45 lead at halftime.
The flustered Suns muttered among themselves during a timeout after the layup and fans headed for the concourses in droves, even though halftime hadn't arrived. The 21-point lead was the largest at halftime for the Nets this season.
The Suns cut it to 70-59 on Teletovic's 3 with 7:15 left in the third quarter, but the Nets went on a 15-2 run over the next four minutes to go up 85-61.
TIP-INS
Nets: With Johnson gone, Bogdanovic got the start at small forward. Johnson started all 57 Nets games up to Thursday. Bogdanovic made his 18th start of the season. "I'm a little sad that he's not going to be around and I'd like to run plays for him," interim coach Tony Brown said, "but I have the utmost respect for him and wish him nothing but the best going forward." ... C Brook Lopez was whistled for a technical foul for arguing a non-call late in the second quarter.
SUNS: Guard John Jenkins made his Suns debut a day after being claimed off waivers and scored his first basket on a layup with 1:32 left in the third quarter. Phoenix is Jenkins' third NBA team since being drafted by Atlanta in 2012. . Chandler returned after missing the past two games with a bruised shoulder. . F Kris Humphries shot 0 for 9, grabbed 10 rebounds, committed three turnovers and had two shots blocked on the same possession.
ADVERTISEMENT - CONTINUE READING BELOW
UP NEXT
Nets: At Utah on Saturday night.
Suns: Host Memphis on Saturday night.