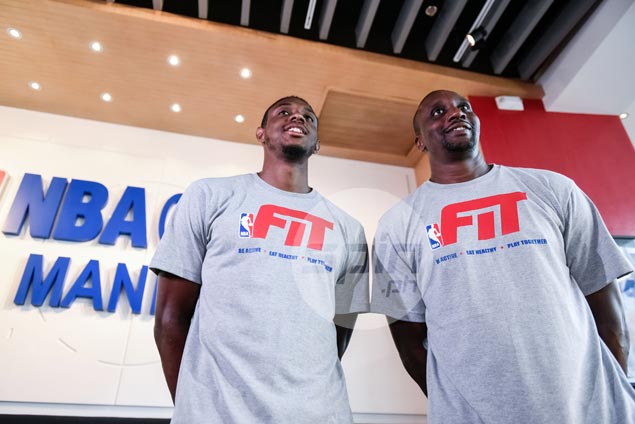 BRANDON Knight and Dee Brown may be from two different basketball generations, but they share the same principles on how to prolong a pro career not just in the NBA, but in any other league.
The 24-year-old Knight, who is in the middle of a blossoming career, said it's simply about hitting the gym and eating healthy — and being consistent on them.
"That's by working out and giving your body a chance to recover and rest, and eating the right way," the Phoenix Suns star said on Monday in his visit to the country for NBA Fit. "Just being disciplined and sticking to your routine."
"Throughout the summer, it's our time as NBA players to get better whether that be lifting weights, working on certain skills in the gym, or just by playing basketball, playing pickup against other NBA guys," the five-year veteran said.
[See NBA star turned scout Dee Brown lists things he looks for in recruits]
Brown has been there and done that, having played in the world's premier pro league for 12 years, before transitioning into coaching.
"We, coaches, always talk about Xs and Os and drills and making shots, and playing defense, but taking care of your body is just as important," the retired NBA player said. "You have to eat well and you have to get your rest."
"Your body is what's going to keep you on the court," the 47-year-old former Slam Dunk Contest champion stressed, citing recently retired legends Kobe Bryant and Tim Duncan.
"That's why Kobe Bryant can play twenty years and Tim Duncan nineteen years: They take care of their bodies off the court," Brown added as he preached the NBA Fit mantra of "Be active, eat healthy, and play together."
"So if you can start at a young age, understand how important those things are other than being on the court playing, I think it would last your career a long time," the current Los Angeles Clippers scout concluded. 
ADVERTISEMENT - CONTINUE READING BELOW