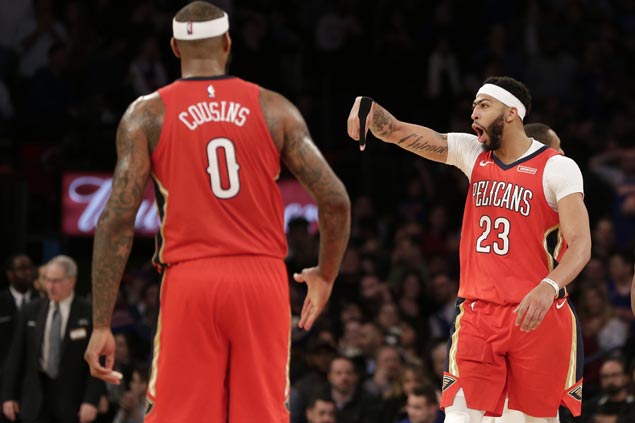 NEW YORK — Anthony Davis scored a season-high 48 points and grabbed 17 rebounds, leading the New Orleans Pelicans back from 19 points down late in the third quarter to a 123-118 overtime victory over the New York Knicks on Sunday (Monday, Manila time).
Jrue Holiday added 31 points, and DeMarcus Cousins had 15 points, 16 rebounds, seven steals and five assists and for the Pelicans. They were down 16 after one, even further back late in the third and still down nine with 4 1/2 minutes left in regulation. But they kept coming and Holiday had three baskets and a couple free throws in OT to help them finish it off.
Kristaps Porzingis and Tim Hardaway Jr. each scored 25 points for the Knicks, who lost their third straight and 10th in their last 12 games. Jarrett Jack had a season-high 22 points, and Enes Kanter finished with 18 points and 10 rebounds.
It was a miserable way to finish a rare January home game for the Knicks, who begin a seven-game, coast-to-coast trip Monday in Brooklyn that has them away for two weeks.