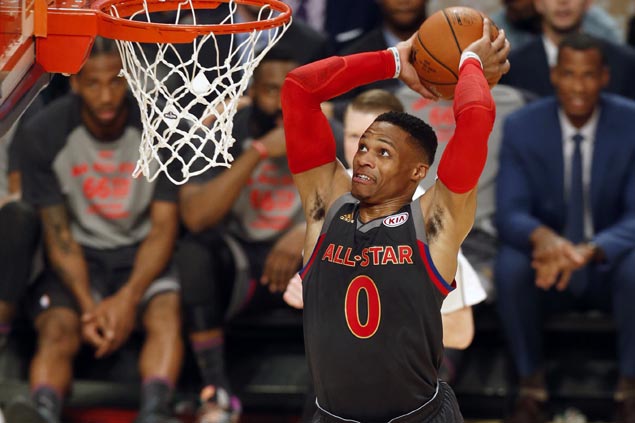 NEW ORLEANS — Move over, Wilt. After 55 years, one of your records is no more.
Anthony Davis took care of that.
At the defense-free dunkfest that now serves as the NBA's All-Star Game, Davis scored a record 52 points and led the Western Conference past the Eastern Conference, 192-182 on Sunday night (Monday, Manila time). He made 26 of 39 shots, scored 20 points in the fourth quarter and became the first player since Kobe Bryant in 2011 to win MVP honors on his home floor.
"It was amazing," Davis said. "That's what I wanted to do ... get the MVP for this crowd, for this city. This one definitely means a lot to me."
Davis was the star of stars in a game where the teams combined for more points than in any other All-Star contest. It came on a night when Russell Westbrook and Kevin Durant provided a glimpse of the past, Giannis Antetokounmpo had more dunks — 12 — than his name has consonants and LeBron James became the first player to eclipse 300 points in an All-Star career.
Being linked to Wilt Chamberlain, who had 42 points in the 1962 game, only made it more special, Davis said.
"The next one I'm going to try to do is 100 points," Davis said.
He even outdid Westbrook, who had 41 points in just 20 minutes — which ordinarily would have been enough to merit him what would have been a third straight MVP award.
Not this time. It was Davis hoisting the trophy, thanks to his West teammates deferring to their host time and again.
"It shows our guys recognize what the weekend is about," West coach Steve Kerr said
Durant had a triple-double with 21 points, 10 rebounds and 10 assists. Stephen Curry added 21 points for the West. And after the game, word came that Sacramento is trading All-Star center DeMarcus Cousins to New Orleans as part of a deal that will involve five players and two draft picks.
Cousins played only two minutes. The New Orleans fans will see much more of him soon enough.
Antetokounmpo had 30 points for the East. James scored 23 — including a 3-pointer from the midcourt logo — while his Cleveland teammate Kyrie Irving added 22 points and 14 assists.
"There were a few too many transition baskets allowed," East coach Brad Stevens deadpanned. "But I think that was strictly coaching."
Davis became the story that overshadowed The Story coming into this game, that being the Durant-Westbrook whatever.
If any animus remains between Durant and Westbrook, it was hidden. They passed each other the ball in the pregame layup line, and not long after Westbrook checked into the game the former Oklahoma City teammates provided one of the game's top highlights — a give-and-go, capped by Durant lobbing the ball to set Westbrook up for a dunk.
ADVERTISEMENT - CONTINUE READING BELOW
Kevin Durant and Russell Westbrook teamed up for an alley-oop in the NBA All-Star Game as the @StateFarm Right Combination. pic.twitter.com/VdxalwDYcH

— SportsCenter (@SportsCenter) February 20, 2017
"OH MY GOD! WHAT JUST HAPPENED?" Curry shouted on the West bench, which moments later broke into celebration. Players jumped and threw hands skyward, Curry tossing a cupful of ice water onto a smiling Durant amid it all.
"Yeah, he threw a lob," Westbrook said. "That's all that happened. Just threw a lob. It's basketball. That's it."
That wasn't it, of course.
The Durant-Westbrook story line was huge coming into the All-Star Game, which the West won 192-182. The tale is well known: Durant left Oklahoma City for Golden State last summer, and the relationship between the former Thunder teammates has either been frosty or nonexistent since, depending on which perspective one wants to believe.
Golden State is 3-0 against Oklahoma City this season, so it's not like Durant and Westbrook haven't been around each other. But Sunday night marked the first time they shared an in-game huddle since last spring, when the Thunder season — and the Durant era — ended with a loss to Golden State in the West finals.
"It was a great basketball play," Durant said. "He was open so I threw him the lob. He can jump really high so yeah, good play."
Kerr said that set the West up for the rest of the night.
"I guess that's kind of the beauty of the game," Kerr said. "You just let the game break the ice, and that play, I thought, broke the ice."
That feeling when KD and Russ linked up for an alley-oop slam. pic.twitter.com/ZfY7ZutRqk

— SportsCenter (@SportsCenter) February 20, 2017
Westbrook scored 12 points — all on 3s — in a 63-second span late in the third quarter, coming off the bench and firing over and over and over again. And then he opened the fourth quarter with another 3, giving him 34 points in just under 14 minutes played to that point.
It looked like he was a cinch for MVP honors, until Davis scored 20 points in the fourth.
"He did a good job," Westbrook said, "and got it done."
TIP-INS
East: Irving also led the East in rebounds with seven. ... Isaiah Thomas scored 20 for the East. Kyle Lowry scored 19 points and DeMar DeRozan added 16. ... No East player logged more than 24 minutes.
West: Curry took cover in the third quarter, comically hitting the deck face-first as Antetokounmpo went in for yet another dunk. So later in the quarter, Antetokounmpo went over Curry for a rebound slam — one that left Curry staring at the scoreboard for a replay.
CELEB WATCH
A huge roar greeted Jon Batiste, who performed "The Star-Spangled Banner" pregame, when he started the song.
ADVERTISEMENT - CONTINUE READING BELOW
It wasn't for him.
That happened to be the moment when John Legend — the halftime performer — and Chrissy Teigen were shown at their sideline seats on the video screens around the arena. And a louder cheer came not long afterward when Beyonce and Jay Z got on-screen.
Among the other celebs in the seats: Guy Fieri, Dave Chappelle, Julius Erving, Alonzo Mourning, Bill Russell, Oscar Robertson and The Roots.
UP NEXT
The next All-Star Game is Feb. 18, 2018, in Los Angeles, which will host for a record sixth time.