CHICAGO - His 4.2 grade point average at Palo Alto High was greater than his assists per game average throughout 457 NBA games. And when he graduated at Harvard in 2010, his 3.1 GPA was more than his career 2.8 rebounds a contest.
Well, you get the point. Jeremy Lin is right there on the threshold of genius.
Being super smart usually attracts a higher calling, such as the law, medicine, or space exploration.
But Lin, a 6-foot-3, 190-pound bundle of energy, found a niche in the unlikeliest of places, the NBA. Thanks largely to a stout brain, which according to one esteemed college professor, "always makes up for everything in life."
Lin isn't a volume scorer, but manufactures enough, 11.8 per, to be a legitimate threat.
He doesn't have a lethal jumper but he is wise with his shot selection and rarely hoists ill-advised attempts, which explains why he's hitting 43.6 percent of his field goals, just a shade under the 44.3 percent accuracy of James Harden, a 10-year veteran and the reigning MVP.
Lin can't break ankles with metronome regularity, and the word warp doesn't come to mind when describing his speed. What he is though, is a savvy point guard that can split double teams with the same skill that an accountant separates debit from credit.
Continue reading below ↓
Recommended Videos
And he is frugal with turnovers, just 2.3 per, which is less than Steph Curry's three a game and Harden's dizzying 5.4 per.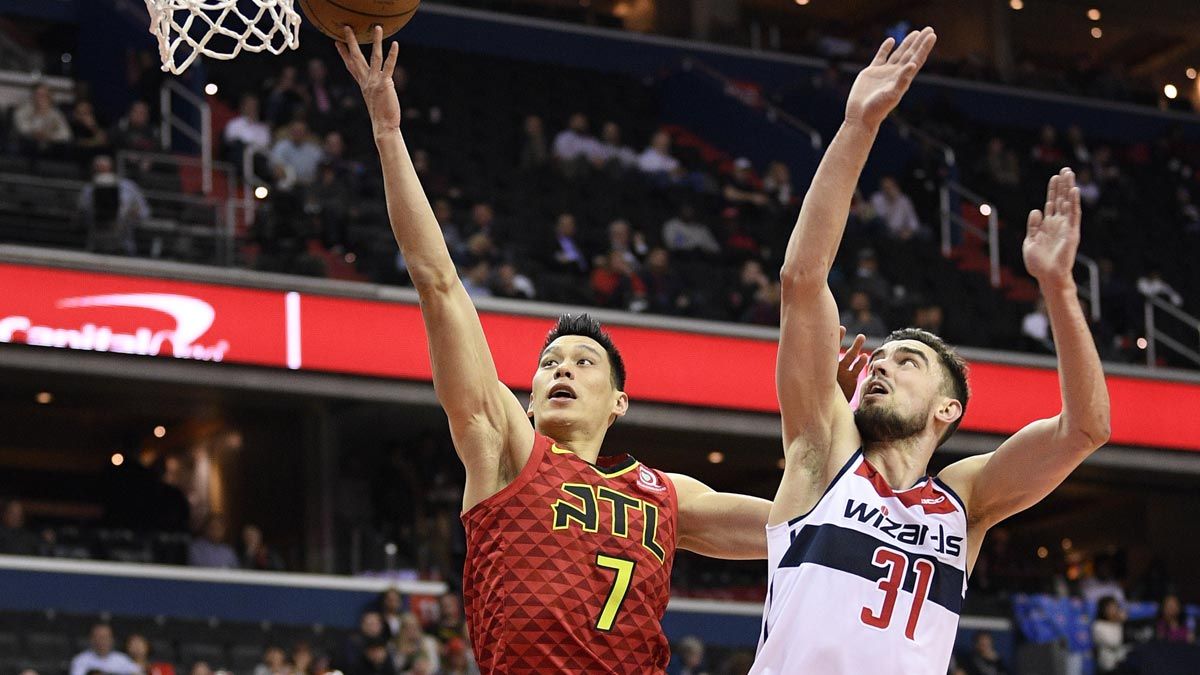 Seven Februarys ago, when the Knicks were reportedly about to cut him, he resuscitated his then dying hoops career and captured fans' imagination by scoring 136 points in five starts, including 38 against Kobe Bryant and the Lakers.
The global phenomenon known as "Linsanity" proved that he can play, that he belonged.
After stints with the Rockets, the Lakers and the Hornets, Lin returned to the scene of his greatest triumphs - New York - and signed a three-year $38.3 million deal with the Nets. Unfortunately, injuries (hamstring and a ruptured patella tendon ) made him miss 127 games, making it impossible to recapture the magic.
Now 30, and recently bought out by the Atlanta Hawks, who acquired him via trade last summer, Lin's dreamy NBA ride appeared to have stalled, perhaps for good.
Until Toronto came calling. With Fred Van Fleet out for weeks with an injured thumb, the Raptors need experienced relief to help unburden Kyle Lowry from the playmaking chores.
Under new head coach Nick Nurse, Toronto runs heavy with pick-and-rolls, which is a perfect fit for Lin, who has mastered this offensive scheme the same way Beethoven embraced music.
So the journey continues.
With his economics degree from one of America's finest learning institutions, Lin, who had a perfect score on his SAT subject test in math, could have made a name for himself in the corporate world.
But I don't think he has regrets, not one bit.
Instead of wearing Armani suits, silk ties, and leather loafers to work, Jeremy puts on shorts, a sleeveless shirt, and sneakers. He doesn't have to worry about a board room filled with uptight executives; all he has to do is pay attention in the huddle and the film room.
And hey, his NBA job pays good, too. Really, really good.
Through nine NBA seasons, Lin has earned $65.6 million in salaries. He also has endorsement deals with Nike, Steiner Sports and Volvo that rake in an extra $4 million annually, plus lucrative appearance fees in Asia.
According to Sportskeeda, Lin's net worth as of 2017 is a cool $170 million.
Undrafted. Unwanted. Doubted.
But nine years after entering the NBA through a partially-guaranteed two-year contract with the Golden State Warriors, Lin is still here, ready to add another chapter to what's already a fairy tale.
Who knew?
No one, except Jeremy, whose soul is unbreakable and whose will is indomitable.
And he wants all of us to know that as long as you're willing to make the sacrifice and put in the hard work, nothing is impossible.