CHICAGO - When a guy sitting next to you on an airplane suddenly sobs uncontrollably while staring at his portable electronic device, it's probably natural to assume that the tears were propelled by a dramatic or romantic movie.
But then again, the crying could have been triggered by fear of flying, being claustrophobic, or the utter depression of having to pay $60 for extra luggage right before boarding.
When Philadelphia acquired Tobias Harris from the Los Angeles Clippers last week, a plethora of pundits were quick to conclude that the Sixers now have the second-best starting five in all of the NBA behind the powerhouse Golden State Warriors.
Whether it's true or not is up for a heated debate. Assumptio non-probata, the lawyers would argue.
Personally, I think it's sometimes safer to be just cynical, not logical.
While the Sixers' first unit - Ben Simmons, Joel Embiid, J.J. Redick, Jimmy Butler, and Tobias Harris - inspires more fear than the Avengers, I still believe the path to the NBA Finals goes through Milwaukee.
Despite a 2-0 record since their lineup makeover, the Sixers have yet to identify their stars' roles, especially at crunch time. Most importantly, they need to discover the easy comfort of playing with one another under the heavy cloud of championship expectations.
Continue reading below ↓
Recommended Videos
The Milwaukee Bucks have no such concerns.
Playing a fast-paced system that has the bench depth to sustain it, the Bucks have enormous offensive bite. They score 117.3 points per, second in the NBA, and each of their five starters average in double figures in points.
Under coach Mike Budenholzer, once a top student in the coaching university called Gregg Popovich, the Bucks have a defensive might that surrenders just 107.3 points per while their defensive rating of 103.9 is No. 1 in the league.
Most importantly, perhaps unbeknownst to the United Nations' Security Council, Milwaukee has a nuclear weapon - Giannis Antetokounmpo.
Unlike other teams, where the superstars' off-court drama about recruiting (LeBron James and his unsubtle longing for Anthony Davis) and free agency (Kevin Durant and Kyrie Irving to the Knicks?) have overshadowed the game, the Bucks don't make any noise besides being the best team with a 42-14 record.
In a February 2016 ESPN Magazine piece, Kevin Arnovitz opened a window into which we were able to glance why they call Antetokounmpo "The Greek Freak."
Taken 15th overall by the Bucks in the 2013 NBA draft, Giannis, then 18 years young, was only 6'8 1/2 tall. He has since grown to 6-foot-11, which is normal. But his other measurements are abnormally sick, in a good way of course.
His wingspan is 7-foot-3. His hands, from the tip of the thumb to the tip of the pinkie, is 12 inches, while his Achilles tendon is longer than Greece's coastline - 13.5 inches, which is almost twice as the average adult male's.
Drafted at a gangling 196 pounds, Giannis has since ballooned to 222 pounds, morphing into a mini Popeye with bulging muscles minus the pipe.
These unique dimensions have helped shape Antentokoumpo's agility and athleticism. In layman's terms, he can do stuff other players can't, such as accelerating like a rocket or bursting from mid-court to the hoop in a blur.
Monday night at the United Center, where 20,517 souls braved the cold temperatures and freezing rain, Giannis showed off the stuff that has made him a solid MVP candidate this season, delighting many fans who showed up waving the Greek flag and wearing various varieties of his jerseys.
He finished with 29 points, 17 rebounds and eight assists in Milwaukee's 112-199 triumph over Chicago.
It was a joy to see him display the entire arsenal - a few mid-range jumpers, two 3s, nine made free throws, plus a menacing defense.
And it was a gift to behold the 45-inch legs which he weaponized while galloping beautifully, escaping defenders with each gigantic stride toward the basket.
Losers of two straight and eight of their last 10, the 13-44 Bulls have a lot of youth and talent in their lineup. But right now, Giannis is on a much higher level, like an Apple iPhone X mixed in a bin of obsolete Samsung Note 5s.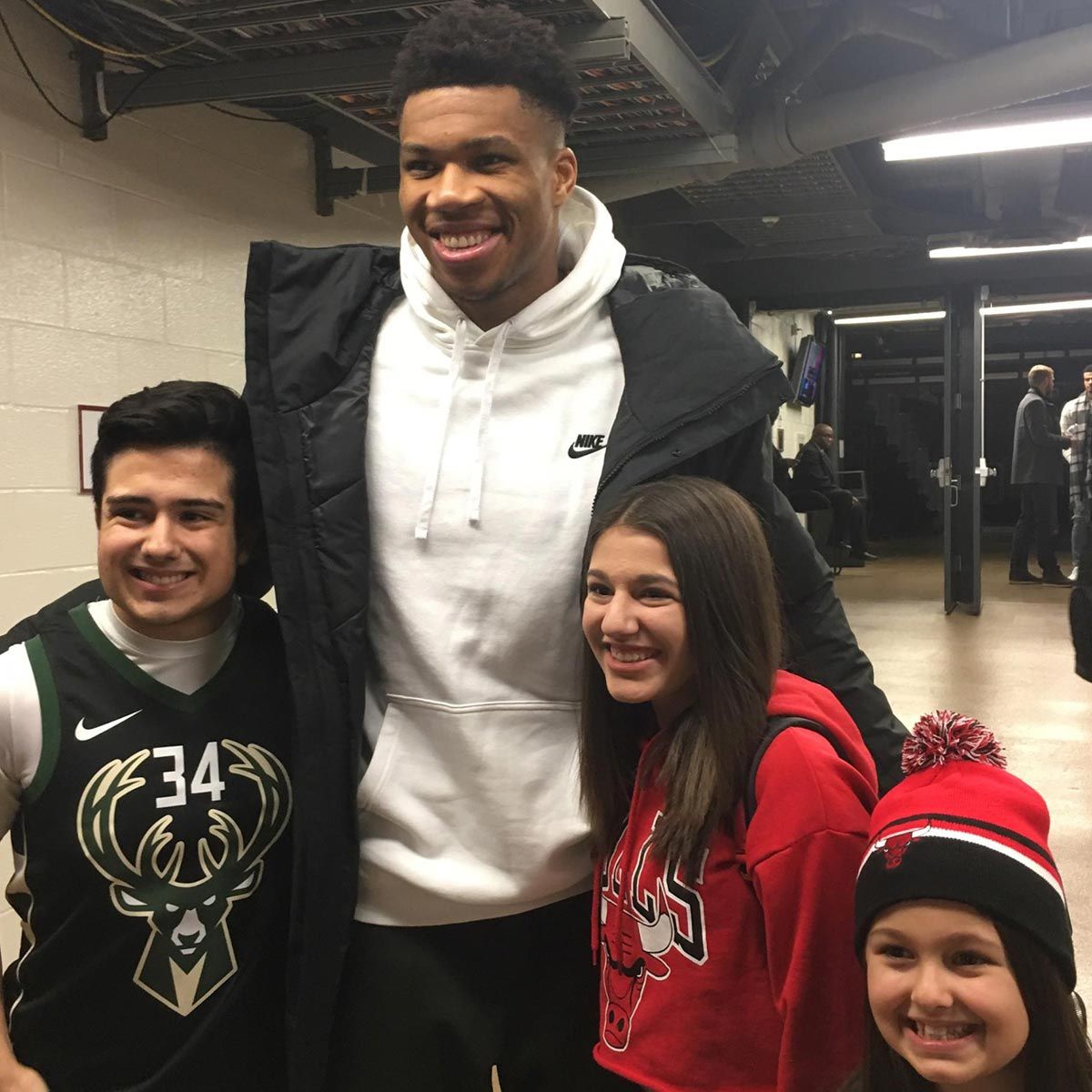 MEET AND GREEK. Per the official box score, Giannis had eight dimes in 35 effortless minutes of play. But his best assist came way after the game when he took time to meet some of his fans who waited for him to emerge from the visitors locker room an hour or so after the contest.
Among the lucky ones included three suburban Chicago kids of Greek descent - Eraklis Labrakis, Victoria Georgelos and Eva Georgelos - who got a photo-op and an autograph from the three-time All-Star.
Most NBA stars often walk by their screaming fans after games, which is understandable considering their fatigue and the fact that a team bus is waiting for the road team.
But Giannis is one of those guys who understand deeply that he probably won't be where he is now, and definitely not making what he earns ($24 million this season excluding endorsements) without those loyal fans.
With Giannis as one of the faces in the NBA for years to come, the league is in very good 12-inch hands.