CHICAGO - The phrase "embarrassment of riches" emanated in 1738 as a translation of the French play L'Embarras des Richesses by playwright Abbe' d' Allainval.
It is an idiom that means an overabundance of good people or things.
In the NBA, it's called the Boston Celtics.
And because of such wretched excess, those leprechaun-charmed guys in green will win the Eastern Conference title in this upcoming 2018-19 season.
I know. I'm supposed to consider the other 14 teams, make the plot rise, before rallowing this forecast piece to climax. Well, no foreplay needed here. But if you want to know details of the inevitable, kind of like finding out if the deck chairs of the Titanic got wet when the ship sank, here it is.
Boston has a wealth of ungodly talent.
Despite playing without Gordon Hayward (nasty broken leg) for all but one game of the entire 2017-18 season and then losing Kyrie Irving (knee surgery following an infection) from March 11 and throughout the playoffs, the Celtics somehow put together 57 wins and made it all the way to Game 7 of the Eastern Conference Finals where they lost to the Cavaliers.
ADVERTISEMENT - CONTINUE READING BELOW ↓
Without their All-Star leaders, young turks Terry Rozier, Jaylen Brown and Jayson Tatum all grew up quickly and dangerously. During Boston's 19-game postseason spree, the baby trio averaged a combined 53 points, 14.5 rebounds and 9.8 assists.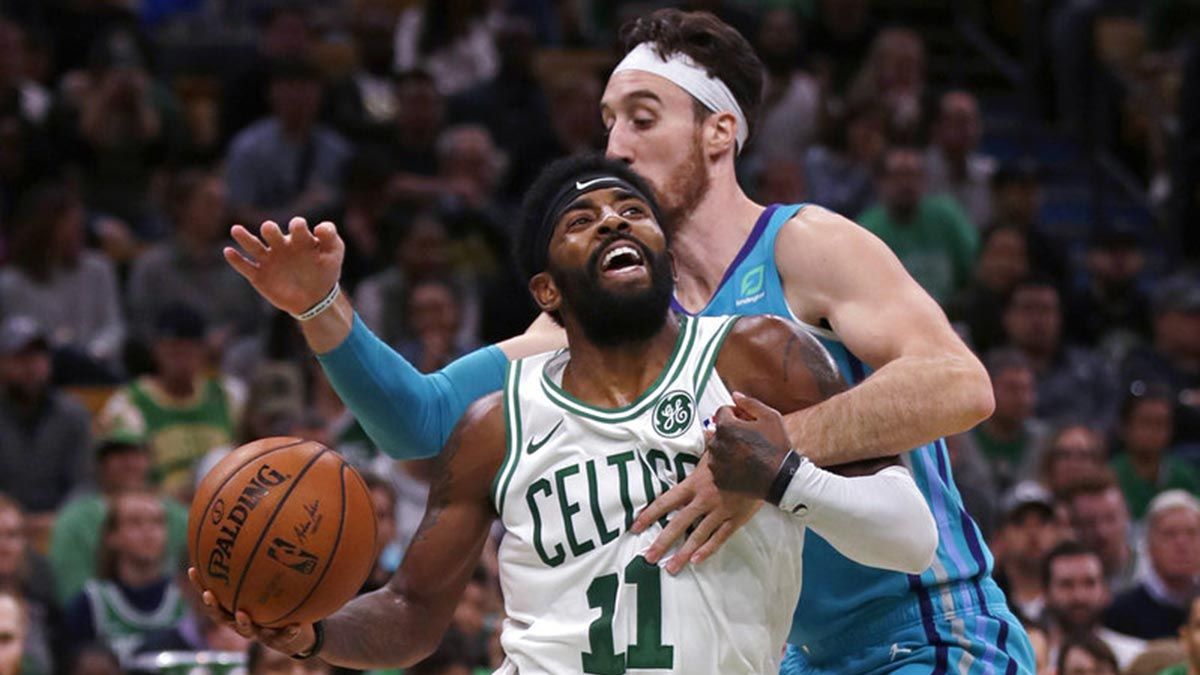 Hayward is expected to add even more punch with his career average of 15.6 points while shooting 47.8 percent of his twos and 36.8 percent from long distance.
ADVERTISEMENT - CONTINUE READING BELOW ↓
But Irving is the sauce that separates the Celtics from the field. The 2016 Finals MVP isn't just an alpha male, he got the killer gene necessary to close the deal. He played just 60 games last season, packing in 24.4 points, 3.8 rebounds and 5.1 dimes per. He's fresh and he's back with a vengeance.
Boston's depth is mind-blowing.
They're not exactly a dream team. but they have enough weapons to carry out naked ambition.
Aron Baynes and Marcus Morris bring a combined 495 pounds of muscle and intimidation while veteran Greg Monroe presents another usable asset at 6-foot-11 and 265 pounds. Marcus Smart and Daniel Theis both bring toughness on defense via relief play.
And then there's Al Horford, an 11-year pro and five-time All-Star. In 72 games last season, his per game average reflected a stud who scored like a power forward (12.9), collected rebounds like a center (7.4) and dished assists like a point guard (4.7).
ADVERTISEMENT - CONTINUE READING BELOW ↓
BOSTON IS INCREDIBLY WELL-COACHED.
He's no Phil Jackson, but Brad Stevens is a chalkboard prodigy minus the giant ego and Zen quirks. He is the best in the business, unrivaled in his preparation, unmatched in his in-game play calling.
Stevens, 41, molded the Celtics into the NBA's No. 1 defensive team last season, surrendering just 100.4 points per while allowing the opposition to convert only 44 percent of their field goals.
ADVERTISEMENT - CONTINUE READING BELOW ↓
And now, with Hayward and Irving nursed back to good health, Stevens has the explosive offense to complement his suffocating defense.
So what about the rest of the East?
The Raptors made a significant upgrade by acquiring Kawhi Leonard for DeMar DeRozan. It's like getting a Highlander after years of driving a Camry. Smoother ride, better handling, but it's still a Toyota.
The Sixers have Joel Embiid and Ben Simmons. Twin towers that will collapse without sustained excellence in guard play, particularly at point. Right, Simmons is a play maker but he can't shoot. Not yet, anyway.
Cleveland used to bring lots of aaahs. Without LeBron, it's just oh-oh.
The good news is the Indiana Pacers have Viktor Oladipo. The bad news is they have little else.
The Miami Heat, if they can get Jimmy Butler, can alter the landscape. Until then, they're just another harmless playoffs participants.
Giannis Antetokounmpo is a star. But the Bucks as a team are nowhere near the elite galaxy.
ADVERTISEMENT - CONTINUE READING BELOW ↓
The Washington Wizards have a great Wall named John. But for the previous past seasons, the narrative of this team is unmet potential. It would be foolish to believe that the script would just suddenly flip.
Which brings us back to Boston, a team ready to flip the switch for the bright lights of the 2019 NBA Finals.